You are here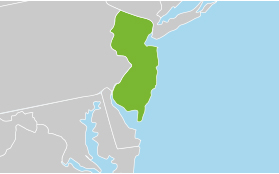 New Jersey is home to energy-intensive industrial manufacturing sectors such as chemicals, computers and electronics, and transportation equipment manufacturing. In 2007, industrial manufacturing in the state contributed to approximately 10% of New Jersey's gross domestic product and 20% of the state's energy usage, consuming 452.1 trillion British thermal units (Btu). As part of an initiative to reduce the energy intensity of the American manufacturing sector, the United States Department of Energy's (DOE's) Advanced Manufacturing Office (AMO;  formerly the Industrial Technologies Program) funded industrial energy efficiency initiatives in 11 states through the American Recovery and Reinvestment Act (ARRA). In New Jersey, the Center for Advanced Energy Systems (CAES) at Rutgers and its project partners established the New Jersey Industrial Energy Program (NJIEP) to carry out program activities. The goal of NJIEP was to provide industrial companies with energy assessments, energy management training, outreach and marketing services, and implementation assistance.
The project aimed to establish partnerships among DOE, state and local government, universities, end users, utilities, and nongovernmental organizations (NGOs) to reduce industrial energy intensity. To accomplish this, a network of companies was developed from three large industries categories in the state: pharmaceutical, utilities, and food and beverage. Now that the funding period has ended, the initiative is supported by state and private funds.
Purpose
As part of participation in the funding program, NJIEP organized outreach activities such as online and in-person trainings and energy assessments.
These trainings were intended to target parties in particularly energy-intensive industries to increase the competitiveness of local businesses on an international scale by promoting change in management practices. 
NJIEP's activities complemented existing work done by other state energy organizations, specifically CAES, located at Rutgers. CAES has continued the work done by NJIEP after the completion of the funding period.
Accomplishments
As part of the team's outreach program, 3,000 local manufacturers were contacted with information about NJIEP throughout the course of the program. These manufacturers were given the opportunity to attend training sessions and pose questions about topics that were particularly interesting to them.
Using support from Rutgers University, the NJIEP team performed two different assessments at a desiccant manufacturing facility and a steel production facility. One facility in the state also participated in the pilot period for the Superior Energy Performance (SEP) certification program. SEP certification is intended to promote energy efficiency in United States manufacturing facilities and help them become competitive internationally with regards to minimizing energy consumption. The NJIEP team supported this facility by providing additional training and mentoring related specifically to SEP participation requirements.
Training sessions offered as part of the funding were typically two-day offerings. The first day involved on-site training that covered basic energy efficiency principles, while a facility audit was provided on the second day, putting the material presented on day one to direct use.
Additional outreach also took place through activities with the New Jersey Business and Industry Association (NJBIA), regional utilities, and Energy Service Companies (ESCOs).  These partnerships allowed NJIEP to speak on energy efficiency at regional conferences such as the New Jersey Food Processors Association's (NJFPA) Annual Meeting and Conference in 2011, which had more than 200 attendees. Information about outreach activities was published in a newsletter that was distributed with assistance from stakeholder partners such as NJBIA and CAES.
Materials from trainings on a variety of topics are available online on both the CAES website, and the DOE Industrial Assessment Center (IAC) website. Topics include flue gas, motor efficiency, and air compressors. CAES also continues to provide additional updated training sessions, energy assessments focused on cost-saving measures, and building energy modeling services.
Program Highlights
Activities
Made Energy service and training portfolio available online for interested parties; it   received more than 2,000 hits during the program period.
Contacted 3,000 local manufacturers with information about NJIEP.
Integrated training materials into CAES and IAC websites so they may be used beyond the funding period.
Project Mission
To provide additional outreach support for industrial energy efficiency efforts taking place throughout the state of New Jersey with the intent of improving the performance of state industry.
Project Funding
| | |
| --- | --- |
| Funding Source | American Recovery and Reinvestment Act of 2009 |
| Funding Amount | $350,000 |
| Project Period | 09/30/2009 to 9/30/2012 |
Project Benefits
Held training sessions and recorded training material so that it could be made available online beyond the project funding period.
Involved additional state organizations so that information could be transferred across sectors and reach more interested parties.
Partnered with Rutgers University to provide tailored energy assessments to regional facilities.
Primary Investigator
Center for Advanced Energy Systems of Rutgers, The State University of New Jersey, Piscataway, New Jersey
Project Partners
New Jersey Board of Public Utilities, Office of Clean Energy, Newark, New Jersey
New Jersey Business & Industry Association, Trenton, New Jersey
Contact
Dr. Michael R. Muller
Professor/CAES Director
Rutgers Department of Mechanical and Aerospace Engineering
73 Brett Road
Piscataway, NJ 08854
Phone: 732-445-5540
E-mail: mullerm@rci.rutgers.edu
Jamey Evans
U.S. Department of Energy
Advanced Manufacturing Office
Phone: 720-356-1536
Email: jamey.evans@ee.doe.gov
Sandy Glatt
U.S. Department of Energy
Advanced Manufacturing Office
Phone: 720-356-1544
Email: sandy.glatt@ee.doe.gov
Last Updated: May 2014