You are here
Software Tool to Predict Solubility of Solids and Other Thermophysical Properties
With assistance from AMO, OLI Systems, Inc., developed the mixed-solvent electrolyte model, a comprehensive physical property package that can predict the properties of electrolyte systems ranging from dilute solutions to fused salts in water, nonaqueous, or mixed solvents. The model accurately predicts the solubility of solids in complex multicomponent systems, thus providing a tool for designing crystallization processes. In addition, the model predicts other properties such as vapor-liquid and liquid-liquid equilibria, densities, heat effects, viscosity, electrical conductivity, and diffusivity.
The model incorporates chemical equilibria to account for chemical speciation in multiphase, multicomponent systems. For this purpose, the model combines standard-state thermochemical properties of solution species with an expression for the excess Gibbs energy. The model can accurately reproduce various types of experimental data for systems of aqueous electrolyte solutions. Separate formulations have been developed for predicting transport properties in the same range of temperature and compositions.
The model has been implemented in OLI Systems' commercial software, including the Electrolyte Simulation Program (a flowsheet simulator), StreamAnalyzer (a desktop chemical laboratory), CorrosionAnalyzer (a tool for predicting the tendency of metals to corrode), and selected interfaces to third-party process simulation programs. In its various implementations, the mixed-solvent electrolyte model is already used by more than 50 chemical process companies that lease OLI's software.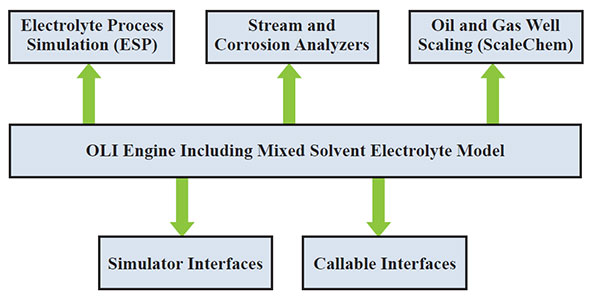 Overview
Developed and marketed by OLI Systems, Inc.
Commercialized in 2005.
Sold 130 U.S. licenses and 182 non-U.S. licenses.
Applications
Can be used to optimize crystallization and other separation processes throughout the chemical and pharmaceutical industry.
Capabilities
Predicts crystallization and other separation processes.
Predicts solubility of solids and other thermophysical properties.
Benefits
Efficiency
Improves process control, filterability, and mixing efficiency.
Energy Savings
Substitutes crystallization for more energy-intensive process units.
Product Quality
Improves process control and product quality and minimizes lab and plant testing costs and risks (by using simulations).
Contact Information
Andre Anderko
(973) 539-4996 ext. 25
aanderko@olisystems.com
OLI Systems, Inc.