You are here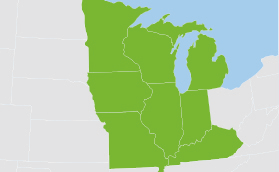 The industrial sector accounts for approximately one-third of all energy consumed in the United States each year. The U.S. Department of Energy's (DOE's) Advanced Manufacturing Office (AMO; formerly the Industrial Technologies Program) developed multiple resources and a best practices suite of tools to help industrial manufacturers reduce their energy intensity. AMO adopted the Energy Policy Act of 2005 objective of reducing industrial energy intensity 2.5% annually over the next 10 years. To help achieve this goal, AMO relied on its state partners to help disseminate the resources and information to industrial manufacturers in their areas and, in 2009, awarded grants to 23 states and 5 regional entities to further these efforts.
In May 2009, DOE announced it would award funding to a team lead by the Illinois Department of Commerce and Economic Opportunity's State Energy Office, in cooperation with the University of Illinois at Chicago's Energy Resources Center. The funding was to develop the Midwest States Save Energy Now Partnership Program, a project designed to enhance a partnership among DOE, academia, utilities, industrial manufacturers, energy service companies (ESCOs), industrial trade groups, and state energy offices. This partnership would build off of existing work to help reduce the energy intensity of industrial manufacturers in the Midwest Region. The Midwest team's approach consisted of implementing a comprehensive outreach strategy, conducting energy assessments, promoting energy-efficient technologies, identifying resources to help fund energy efficiency projects, and helping to test the elements of the American National Standards Institute (ANSI)-accredited Superior Energy Performance (SEP) certification program, which uses the ISO 50001 energy management standard.
Purpose
The Midwest Save Energy Now Partnership Program focused on utilizing available federal and local resources to increase the number of Midwest industrial companies that implemented energy assessment activities at their facilities and that committed to the resulting energy-related capital investments. The regional program included eight Midwestern states: Illinois, Indiana, Iowa, Michigan, Minnesota, Missouri, Ohio, and Wisconsin. The program was created to identify and secure partnerships among academia, utilities, industrial manufacturers, and state energy offices. These partners were then responsible for the following tasks:
Identifying Energy Savings Champions from within their organization to participate in the program. Energy Savings Champions are companies that achieve more than 15% total energy savings.
Agreeing to evaluate how the program applies DOE AMO suite of industrial tools to their facility.
Agreeing to promote Save Energy Now or equivalent assessments to their company or association members.
Participating in the program advisory group, designed to provide continuous guidance and direction to the program.
Agreeing to market and promote energy efficiency programs—especially this Midwest partnership program—as a valuable energy and environmental endeavor.
Accomplishments
Over the course of the program, the Midwest Save Energy Now Partnership Program completed a number of tasks encouraging greater energy efficiency in area industry. The program held 14 training webinars and Save Energy Now training sessions, organized nine industrial forums, and created webinars that helped interested parties make use of energy efficiency tools made available by the DOE. The industrial forums provided opportunities for multiple companies and trade organizations to discuss best practices, and many had more than100 attendees. These training sessions served as the framework for services provided directly to facilities throughout the partnership area and helped to accomplish the responsibilities identified above.
Companies interested in energy-saving information specific to their business practices had the opportunity to participate in a Save Energy Now energy assessment performed by the Partnership. These assessments, which last 2.5–3 days, are performed by DOE energy experts and helped large industrial facilities immediately quantify opportunities for energy and cost savings. Throughout the course of the program, multiple types of assessments were made available, all focusing on energy efficiency improvements. These assessments included Level I facility assessments –which focus primarily on cost-saving measures—as well as assessments specified by the Economy, Energy, and Environment (E3) Initiative, such as Lean and Green Assessments. E3 Initiative assessments include more information about the energy use of specific portions of a facility. The Partnership connected interested participants to these assessments based on existing relationships with other state and federal organizations.
As part of these assessments, the Partnership also sponsored multiple training sessions to help companies throughout the Midwest that were looking to participate in the Superior Energy Performance (SEP) certification pilot program. SEP is a certification program that provides American industrial facilities with a transparent, globally accepted system for verifying energy performance improvements and management practices. A key element was implementation of ISO 50001, a global energy management standard. A total of nine companies were recruited and started a series of three training sessions for the SEP program, with seven companies completing all sessions. These training sessions covered topics on both how to design an effective energy management system and how to integrate energy saving practices into a company's core culture. At the end of training, participating facilities were left prepared to seek certification as they saw fit.
Within Illinois, the Partnership helped organize additional no-cost energy assessments that were tailored for small and midsized companies, where smaller opportunities and fewer in-house resources might exist. A number of Illinois-based projects were also completed along with the cooperation of the Illinois Energy Office. To incentivize energy savings, the Partnership helped design a new rate system for natural gas pricing. Utilities were closely involved with this effort to help ensure its long-term success.
While a large portion of activities took place in the Chicago area, the Partnership also worked on a regional basis. The Partnership coordinated with the DOE's Midwest Industrial Assessment Centers, which include the following locations:
Bradley University
Indiana University-Purdue
Indiana University- Purdue University Indianapolis
Iowa State University
University of Dayton
University of Wisconsin Milwaukee
University of Michigan
University of Missouri-Columbia
Utilities, other energy efficiency organizations, and the Midwest Industrial Assessment Centers helped to sponsor updates of older equipment in select area factories. Replacements ranged from boiler systems to new combined heat and power (CHP) infrastructure.
A major project was completed in January 2012 at an ethanol producer in Illinois. A 3.5-megawatt CHP system in their ethanol production facility replaced about 25% of the existing energy load. Another facility experienced an energy savings of more than 40% as a result of an energy efficiency process improvement within a steel tempering system.
One Illinois-based forging company utilized about $550,000 in incentives to invest a total of $1,800,000 in the installation of five regenerative smelting furnaces. This project resulted in annual energy savings of more than $600,000 with a simple payback of less than three years.
The previously mentioned industry forums were located throughout the Midwest and were designed to encourage a regional exchange of information. The Partnership also provided regular support for other states and area corporations that were conducting activities under the American Recovery and Reinvestment Act (ARRA). Cooperation with Ohio eventually led to the creation of a separate Save Energy Now Ohio website that coordinates state activities beyond the main program headquarters in Illinois.
By the end of the program, 250 partners had joined the partnership, exceeding the original goal of 200. Overall, the Midwest Save Energy Now Partnership was able to meet or exceed all program goals that it set prior to participation in the program.
The program also worked closely in developing and implementing the Illinois Large Energy User's Energy Efficiency program, which provided ARRA-funded incentives for natural gas energy efficiency projects. As a result, about $17 million in ARRA funds were invested in Illinois industrial energy efficiency projects.  These incentives were matched by more than $40,000,000 in total investments from the companies and produced more than $7,000,000 in annual energy savings.
Program Highlights
| Program Activity | Goal Number | Completed |
| --- | --- | --- |
| SEP Company Recruitment | 4 | 9 |
| Partner Recruitment | 200 | 250 |
| Training Webinars | 8 | 10 |
| Industrial Forums | 5 | 9 |
Project Mission
To enhance a partnership among academia, utilities, industrial manufacturers, and state energy offices to build off of existing work to help reduce the energy intensity of industrial manufacturers in the Midwest Region.
 
Project Funding
| | | |
| --- | --- | --- |
| Funding Source | U.S. Department of Energy, Advanced Manufacturing Office | American Recovery and Reinvestment Act of 2009 |
| Funding Amount | $898,537 | $500,000 |
| Project Period | 8/1/2009 to 12/31/2012 | 9/30/2009 to 1/31/2012 |
 
Project Benefits
Decreased industrial energy efficiency based on training sessions, energy assessments, and equipment upgrades.
Helped Midwestern plants gain skills that will allow them to implement long term trainings after the program's close.
Fostered regional relationships to encourage continued information exchange.
Primary Investigators
State Energy Office of the Illinois Department of Commerce
Economic Opportunity and the University of Illinois at Chicago's Energy Resources Center, Chicago, Illinois
Project Award Partners
Ameren Illinois Utilities, St. Louis, Missouri
Ameresco, Oak Brook, Illinois
Atlas Tool and Die Works, Inc., Lyons, Illinois
Bradley University, Peoria, Illinois
Chicago Manufacturing Center, Chicago, Illinois
City of Chicago Department of Environment, Chicago, Illinois
Commonwealth Edison, Chicago, Illinois
Grumman/Butkus Associates, Evanston, Illinois
Illinois Manufacturer's Association, Oak Brook, Illinois
Indiana Office of Energy and Defense Development, Indianapolis, Indiana
Industrial Council of Nearwest Chicago, Chicago, Illinois
Iowa Office of Energy Independence, Des Moines, Iowa
Johnson Controls, Milwaukee, Wisconsin
Midwest Energy Efficiency Alliance, Chicago, Illinois
Minnesota Office of Energy Security, St. Paul, Minnesota
Northern Indiana Public Service Company, Merrillville, Indiana
Ohio Department of Development, Columbus, Ohio
Primera, Chicago, Illinois
Purdue University, West Lafayette, Indiana
Schreiber, Green Bay, Wisconsin
Tooling and Manufacturing Association, Park Ridge, Illinois
University of Illinois at Chicago, Chicago, Illinois
Contacts
Henry Kurth
Associate Director
Energy Resources Center
University of Illinois at Chicago
1309 South Halsted Street, 2nd Floor
Chicago, IL
Phone: 312-953-9631
Fax: 312-996-5620
Email: hkurth@uic.edu
Jamey Evans
U.S. Department of Energy
Advanced Manufacturing Office
Phone: 720-356-1536
Email: jamey.evans@ee.doe.gov
Sandy Glatt
U.S. Department of Energy
Advanced Manufacturing Office
Phone: 720-356-1544
Email: sandy.glatt@ee.doe.gov
Last Updated: May 2014