You are here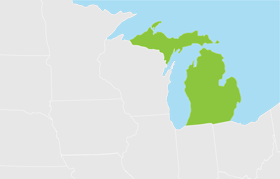 Industry is a vital part of Michigan's economy. The state's major industries—which include primary metals, automotive manufacturers, chemical plants, paper and wood products manufacturers, metal casters, and petroleum refineries—are extremely energy intensive and are facing increased global competition.
In 2009, the Advanced Manufacturing Office (AMO; formerly the Industrial Technologies Program) of the U.S. Department of Energy (DOE) awarded grants to 23 state and 5 regional entities to help disseminate energy-saving resources and information to industrial manufacturers in their areas. The Michigan Energy Office devised a plan to help industrial manufacturers lower their operating costs and retain their competitiveness in the global market by improving the energy efficiency of  manufacturing facilities in Michigan. This Office, together with a robust team from academia, state offices, and energy efficiency organizations, established the Michigan Industrial Energy Center (MIEC). MIEC, which encompasses the University of Michigan's Industrial Assessment Center, has helped Michigan industry by providing energy efficiency education and certification, performing energy assessments, deploying technology, and executing a comprehensive outreach plan.
Purpose
MIEC developed a comprehensive energy-savings program that is focused on offering an extensive energy education and certification program for local industrial energy managers; providing targeted assistance to energy-intensive industries in the region; and assisting in the development of new, energy-efficient technology that can be deployed in the state. These three goals were designed to help the state effectively address:
The requirement of Michigan's Public Act 295 of 2008 to reduce the total energy consumption in the state by 1% per year.
The goal of Michigan's Executive Directive No. 2009-4 to achieve a 20% reduction in greenhouse gas emissions by 2020.
The standing goal of the Energy Policy Act of 2005 to reduce industrial energy consumption by 2.5% per year.
Accomplishments
One of the project's major accomplishments was the development of a comprehensive database of potential MIEC network members. The project launched the MIEC network by sending out an introductory invitation to more than 500 companies (with 220 members recruited by the end of 2013). Additionally, MIEC successfully launched its website.
In terms of marketing and outreach, the project achieved 10 placements of news items with various media outlets and developed 12 lectures for the Fundamentals and Economics of Industrial Energy Efficiency short-course training program.
MIEC completed four DOE/AMO Qualified Specialist Trainings throughout the project period. Also during this period, 14 Better Plants applications were received and approved, which resulted in 14 assessments.
MIEC completed the design, construction, and installation of the waste heat recovery unit and testing/monitoring system for initial pilot demonstration at the University. The measurements were completed, and a paper was written, titled "A study of entrainment and mixing of co-flowing and counter-flowing gas in confined turbulent jets."
Program Highlights
| Program Activity | Number Completed |
| --- | --- |
| Better Plants Assessments | 14 |
| DOE/AMO Qualified Specialists Training | 4 |
| Waste Recovery Pilot Demonstrations | 1 |
| Media Outlets | 10 |
| Prepared Lectures | 12 |
| Papers on Waste Heat Recovery Technology | 1 |
Project Mission
To deliver a comprehensive energy-savings program to serve as a significant resource to industry, utilities, the State of Michigan, and DOE in meeting the goals of the Energy Policy Act of 2005, the Energy Independence and Security Act of 2007, and Michigan's Public Act 295 of 2008.
Project Funding
| | |
| --- | --- |
| Funding Source | U.S. Department of Energy, Advanced Manufacturing Office |
| Funding Amount | $507,489 |
| Project Period | 9/30/2009 to 9/30/2013 |
Project Benefits
Empowers individuals who are directly responsible for tracking and reducing energy costs at numerous industrial facilities.
Provides direct technical assistance to energy-intensive facilities to rapidly identify and quickly act on significant opportunities to save energy.
Successfully develops and commercializes innovative waste heat recovery technology that could result in dramatic long-term energy savings in industry.
Offers a broad range of information-sharing, networking, and recognition activities that will provide energy managers, technical assistance providers, and others with the resources, tools, and knowledge to implement specific measures to save energy.
Primary Investigators
Energy Office, Michigan Economic Development Corporation, Lansing, MI
Project Award Partners
DTE Energy, Detroit, MI
Renewable Energy Systems, Ann Arbor, MI
Shepherd Advisors, Lansing, MI
University of Michigan College of Engineering, Ann Arbor, MI
Western Michigan University, Kalamazoo, MI
Contacts
Robert Jackson
Michigan Energy Office
Phone: 517-373-2731
Fax: 517-241-6229
Email: jacksonr16@michigan.org
Jamey Evans
U.S. Department of Energy
Advanced Manufacturing Office
Phone: 720-356-1536
Email: jamey.evans@ee.doe.gov
Sandy Glatt
U.S. Department of Energy
Advanced Manufacturing Office
Phone: 720-356-1544
Email: sandy.glatt@ee.doe.gov
Last updated: July 2014