You are here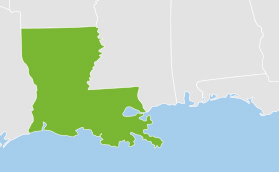 According to the U.S. Energy Information Administration, the industrial sector accounts for approximately one-third of all energy consumed in the United States each year. The U.S. Department of Energy's (DOE's) Advanced Manufacturing Office (AMO; formerly the Industrial Technologies Program) developed multiple resources and a suite of tools focused on best practices to help industrial manufacturers reduce their energy intensity. AMO adopted the Energy Policy Act of 2005 objective of reducing industrial energy intensity 2.5% annually over the next 10 years. To help achieve this goal, AMO relied on its state and regional partners to help disseminate the resources and information to industrial manufacturers in their areas, and in 2009, the office awarded grants to 23 state and 5 regional entities to further these efforts.
In September 2009, DOE announced it would award funding to Louisiana's Department of Natural Resources and the University of Louisiana's Industrial Assessment Center (IAC) to develop a Louisiana Save Energy Now Program.
The goal of the program was to use assessments performed by the University of Louisiana's IAC to increase the energy and carbon dioxide emissions savings. The program increased the number of no-cost assessments offered, as well as assisted clients in developing energy management plans to help implement continuous improvement at Louisiana manufacturing facilities. The project team utilized the existing IAC infrastructure, client connections, and state energy office outreach to extend the benefits of the existing program to a greater number of industrial facilities in the state, such as manufacturers in the food preparation industry and oilfield service companies. Not only did the project team expand the deployment of IAC assessments in Louisiana, but it is also brought additional resources to its stakeholders. For example, AMO Save Energy Now workshops offer tools, training, printed materials, and workbooks on key energy-intensive manufacturing systems to targeted industries. The results of these efforts were published on the University of Louisiana at Lafayette's website, which is managed by IAC students. The project launched in September 2009, with DOE American Recovery and Reinvestment Act funding, closing out in April 2013.
Purpose
As the third largest energy-consuming state, improvements in energy efficiency among Louisiana industrial manufacturing facilities can have a tremendous effect toward reducing the industrial energy consumption of the nation. This program was designed to work with industry to save energy and money, increase productivity, promote carbon management, and reduce environmental impacts. The program worked toward these goals by providing plants with access to proven technologies, energy assessments, and software tools—all of which improve the economy and environment of the state and the nation.
Accomplishments
Louisiana's program completed 26 one-day industrial energy assessments over the course of the grant period, as well as one in-plant training session, which included an assessment of common energy systems (in this case, steam). Personnel from other facilities within the company, as well as from other companies in the area and suppliers, were also invited to attend.
As an example, the University of Louisiana IAC performed an assessment at a popular local hot sauce manufacturing plant. The assessment identified $128,000 in annual electricity savings. The plant implemented the recommendations with the largest impact, and the company was able to immediately capture $116,000 in annual savings—reducing its annual electricity costs by 29%.
The Louisiana Save Energy Now program also worked with 13 industrial companies to successfully draft plant energy management plans. Many of these instances came from requests for assistance in drafting a plan after an assessment had been completed at the plant.
Additionally, the program completed eight energy-savings workshops, which provided information on available tools, resources, best practices, and case studies on industrial energy efficiency activities and technologies. An average of 15 individuals participated in each training session.
Finally, the Louisiana Save Energy Now program was able to successfully complete three energy-saving technology demonstrations.
Program Highlights
| Program Activity | Number Completed |
| --- | --- |
| Assessments | 26 |
| Large Energy Users Training Assessments | 1 |
| Draft Energy Management Pans | 13 |
| Training Workshops | 8 |
| Technology Demonstrations | 3 |
Project Mission
To expand a partnership among academia, state offices, and utilities that will continue to help reduce the energy intensity of industrial manufacturers in Louisiana. This industrial energy efficiency project will reduce industrial energy intensity and its associated carbon emissions throughout the state.
Project Funding
| | | |
| --- | --- | --- |
| Funding Source | U.S. Department of Energy, Advanced Manufacturing Office | American Recovery and Reinvestment Act of 2009 |
| Funding Amount | $200,000 | $344,293 |
| Project Period | 5/1/2011 to 4/30/2013 | 9/30/2009 to 9/30/2011 |
Project Benefits
Increased the number and types of industrial energy assessments conducted in Louisiana.
Reduced Louisiana's annual energy consumption by more than 2.5%.
Implemented an average annual energy savings of $82,000 per plant.
Reduced annual carbon dioxide emissions by approximately 100,000 tons for each plant by the end of the third year.
Primary Investigator
Louisiana State Energy Office, Department of Natural Resources, Baton Rouge, Louisiana
Project Award Partners
COMM Engineering, Lafayette, Louisiana
University of Louisiana, Lafayette, Louisiana
Contacts
Billy Williamson
Technology Assessment Division
Louisiana Department of Natural Resources
Baton Rouge, LA  70804-9396
Phone: 225-342-4493
E-mail: Billy.Williamson@la.gov  
Jamey Evans
U.S. Department of Energy
Advanced Manufacturing Office
Phone: 720-356-1536
Email: jamey.evans@ee.doe.gov
Sandy Glatt
U.S. Department of Energy
Advanced Manufacturing Office
Phone: 720-356-1544
Email: sandy.glatt@ee.doe.gov
Last Updated: May 2014