You are here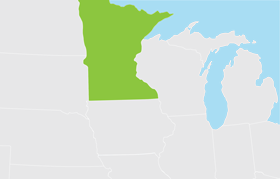 In 2008, industry in Minnesota consumed 615 trillion British thermal units (Btu), accounting for approximately 33% of all the energy used in the state that year. To support the Minnesota state legislature's requirement that utilities meet an energy-savings goal of 1.5% of gross annual retail energy sales, the state implemented an efficiency program focused on industrial energy usage.
To achieve the program's goals, the Minnesota Department of Commerce, Division of Energy Resources contracted with the Minnesota Technical Assistance Program (MnTAP) at the University of Minnesota who coordinated, organized, and implemented the following activities:
Trainings
Energy assessments
Technology demonstrations
Pilots
Technical assistance services.
As part of the program—which was funded as 1 of 23 state and 5 regional awards beginning in 2009 sponsored by the U.S. Department of Energy's (DOE's) Advanced Manufacturing Office (AMO, formerly the Industrial Technologies Program)—Minnesota identified seven high-energy-use manufacturing sectors for focused efforts: chemical manufacturing, ethanol production, food processing, metal casting, metal fabrication, mining, and pulp and paper. MnTAP supported these industrial sectors and their subsectors through onsite assessments to identify energy efficiency opportunities. Barriers to implementation were identified and solutions developed, including utility incentives that aided efficiency technology and best operating practices implementation. MnTAP utilized a "technology diffusion" model as a multistep, risk-reduction methodology to accelerate innovative technology adoption. This model has been shown to increase technology implementation rates from 30% to 50%.
Purpose
Because the Minnesota industrial sector makes up such a large portion of total energy consumption within the state, targeted resources can produce large reductions. Focusing on the seven key industry sectors identified also helped the program direct resources toward industries where they were mostly likely to make an impact.
The program was comprised of a series of interconnected stages that contributed to program activities being directed and successful:
Marketing and Outreach
Training Workshops
Energy Assessments and Benchmarking
Technology Demonstrations and Pilots
Project Implementation
Reporting.
Accomplishments
Phase I: Phase I work included 23 onsite assessments conducted by DOE qualified assessors and other partners. Energy-reduction opportunities totaling 458,000 MMBtu were identified with a cost-savings potential of $7.5 million. At the end of 2013, 17% of identified Phase I MMBtu savings had been implemented. At one site, for example, in addition to identifying more than $166,000 per year in fan system savings, the fan assessment training also provided significant information that has become integral to the companies' project evaluation process.
One adhesive manufacturing company in Minnesota was able to implement operational and upgrade recommendations from a compressed air assessment that resulted in an annual energy consumption reduction of 643,000 kilowatt hours (kWh), resulting in annual savings of $187,000.
A cheese manufacturing company also was able to reap immediate economic benefits from an assessment, implementing recommendations to quickly achieve $110,000 in annual savings while reducing energy consumption by 12,500 MMBtus per year.
In terms of marketing and outreach, MnTAP delivered three presentations to promote the results of Phase I and gather company interest in participating in Phase II. MnTAP also developed and electronically distributed a newsletter article highlighting Phase I results.
Phase II: MnTAP administered a survey to determine business interest in training topics. The survey results indicated motor systems and fan systems training would be of most use. Using this information, MnTAP organized and held one motor system training and one fan system training, with more than 40 participants attending each session.
During Phase II, MnTAP screened and selected seven companies to receive a DOE qualified energy conservation assessment based on their energy use, company commitment, and potential for savings. These included three compressed air assessments, three fan system assessments, and one motor assessment.
Over this phase of the project, MnTAP developed a simplified compressed air assessment tool that allows companies with smaller compressed air systems to generate a set of the energy-savings recommendations that apply to common demand-side and supply-side systems. A copy of the publicly accessible spreadsheet tool is posted on the MnTAP website.
In addition, MnTAP was able to leverage the DOE grant funding with local utility funding to support student interns at four participating industrial companies. These interns were trained by MnTAP staff and placed with a client company to develop and initiate implementation of energy-savings projects. As an example of the interns' impact, at one plant an intern set up a motor inventory and evaluation system that led to the identification of 18 motors that should be considered for short-term replacement with higher-efficiency motors. Energy savings stemming from recommendations made by six MnTAP interns at companies involved with the project totals 40,500 MMBtu with an estimated value of $338,000.
Another outreach area was to help launch energy teams at participating facilities. By the end of the project, MnTAP was able to launch two energy teams at participating companies. Efforts by these teams identified equipment changes that led to implemented energy savings totaling 4,732 MMBtu per year, primarily in electric savings, and $201,000 per year in cost savings.
Phase III: Based on prior survey results and industry analysis, MnTAP decided to target industrial companies with larger refrigeration systems. Refrigeration assessments were performed at four food-processing facilities, each with more than 1,000 horsepower of operating refrigeration capacity and two stage systems. These assessments identified 25,571,000 kWh per year in electric savings (87,250 MMBtu per year) and 34,800 MMBtu per year in thermal savings for a net $2,350,000 per year in dollar savings, with estimated project payback periods of less than four years.
Program Highlights
| Program Activity | Number Completed |
| --- | --- |
| Compressed Air Assessments | 10 |
| Steam System Assessments | 5 |
| Fan System Assessments | 8 |
| Lighting Assessments | 6 |
| Motors Assessments | 1 |
| Refrigeration Assessments | 4 |
| DOE Certified Trainings | 3 |
| Presentations | 3 |
| Assessment Tools Developed | 1 |
| Onsite Student Interns | 4 |
Project Mission
To provide industrial energy efficiency technical assistance resources to businesses across Minnesota.
Project Funding
| | |
| --- | --- |
| Funding Source | U.S. Department of Energy, Advanced Manufacturing Office |
| Funding Amount | $335,087 |
| Project Period | 05/01/2011 to 9/30/2013 |
Project Benefits
Assisted Minnesota manufacturing sites in identifying and implementing economically feasible energy efficiency projects.
Activities have impacted 100 different Minnesota businesses.
Implementation activities reported back by clients through September 2013 have resulted in 101,900 MMBtu per year in energy savings.
Primary Investigators
Minnesota Department of Commerce, Division of Energy Resources, St. Paul, MN
Minnesota Technical Assistance Program, University of Minnesota, Minneapolis, MN
Project Award Partners
Center for Energy and Environment, Minneapolis, MN
Iowa State University Industrial Assessment Center, Ames, IA
Contacts
Laura Babcock (Director, MnTAP)
Minnesota Technical Assistance Program (MnTAP)
University of Minnesota
McNamara Alumni Center
200 Oak Street SE, Suite 450
Minneapolis, MN 55455-2070
Phone: 612-624-4678
Email: lbabcock@umn.edu
Jessica Burdette
Minnesota Department of Commerce
Division of Energy Resources
85 7th Place East
Saint Paul, MN  55101-2198
Phone: 651-539-1871
Email: Jessica.burdette@state.mn.us
Jamey Evans
U.S. Department of Energy
Advanced Manufacturing Office
Phone: 720-356-1536
Email: jamey.evans@ee.doe.gov
Sandy Glatt
U.S. Department of Energy
Advanced Manufacturing Office
Phone: 720-356-1544
Email: sandy.glatt@ee.doe.gov
Last updated: July 2014