You are here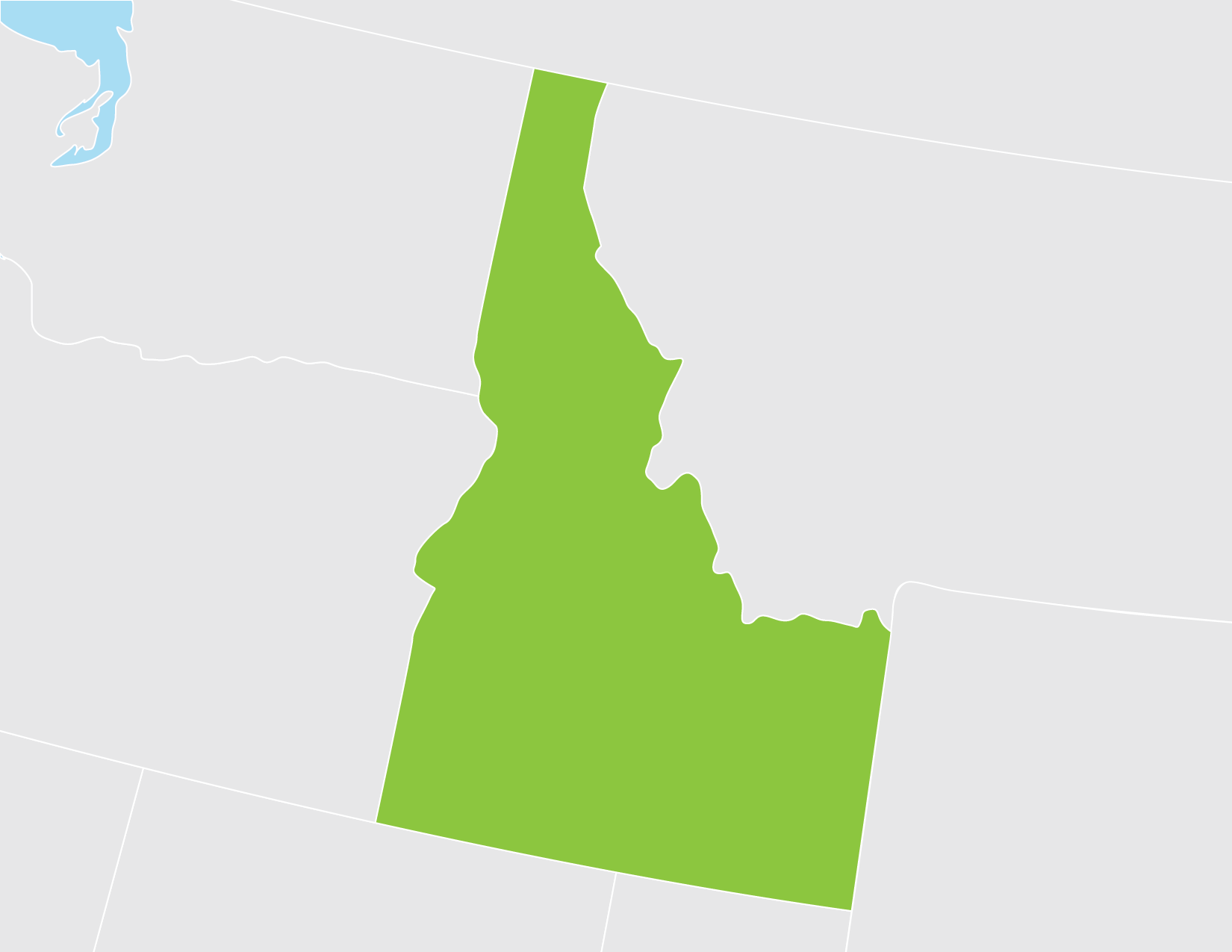 In 2009, the U.S. Department of Energy's (DOE's) Advanced Manufacturing Office (AMO; formerly the Industrial Technologies Program) ) awarded grants to 23 state and 5 regional entities to help disseminate energy-saving resources and information to industrial manufacturers in their areas. Idaho's Office of Energy Resources (OER) received one of these grants to support its Idaho
Save Energy Now
—Industries of the Future program. OER recognized that greater industrial energy efficiency in the industrial sector could help alleviate some of the capacity constraints the state was facing with electricity generation and peak transmission capacity.
As part of its plan improve industrial energy efficiency, OER first identified that a lack of technical plant personnel was a significant barrier for industrial facilities to implement efficiency projects. OER's Save Energy Now program was designed to build professional industrial energy engineering expertise to sustain the state's progress on energy and environmental issues, as well as to continue to undertake independent energy efforts in the future. OER is accomplishing these goals by demonstrating the value of in-house energy engineering expertise and offering assistance in efficiency project implementation.
Purpose
OER's Save Energy Now program had four primary objectives:
Complete an energy engineering demonstration project (EEDP) to demonstrate the cost effectiveness of hiring energy engineers, and then develop a case study supporting the findings of the EEDP.
Develop an investment-grade feasibility study of an estimated 100-MW Combined Heat and Power (CHP) project at The Amalgamated Sugar Company's (TASCO) Nampa, Idaho, facility site.
Develop an industrial refrigeration energy saving assessment (ESA) protocol and analysis tool to complement AMO's suite of other ESA tools.
Work with other state providers to coordinate energy efficiency resources to Idaho's manufacturing facilities of all sizes.
Offer ESAs and professional services to provide energy efficiency support to Idaho's manufacturing facilities.
The EEDP was a pilot project that provided funding for the J.R. Simplot Company, a participant of the Better Plants Program, to cost-share the expenses of staffing two in-house energy engineers. The purpose of the EEDP was to demonstrate the value and cost effectiveness of hiring energy engineers dedicated to implementing energy efficiency improvement projects and changing the energy culture in corporations to increase awareness. Phase two of the EEDP produced a case study that provided a compelling business case for industry investment in human resources dedicated solely to continuous energy improvement.
To accomplish the second objective, the CHP feasibility study was conducted in partnership with TASCO and Idaho Power Company. TASCO anticipated that the CHP project would be natural gas fired to provide excellent source fuel efficiency—allowing TASCO to retire its coal-fired boiler operations and greatly improve air quality emissions.
In 2011, OER identified that there were only five sorption waste heat recovery heat pump systems installed in the country. Because of this deficiency, OER initiated objective three, developing an industrial refrigeration ESA protocol, which sought to identify sorption heat recovery applications to optimize refrigeration and other energy systems (e.g. hot water) common in food processing facilities. OER also worked to develop an industrial refrigeration ESA analysis tool, which it anticipated would complement AMO's suite of other ESA tools—providing further market reach than a standalone technology demonstration.
In order to accomplish its fourth objective, OER created the Idaho Energy Efficiency Partnership (IEEP) project, which was a collaborative attempt to combine the industrial energy efficiency efforts throughout Idaho. The initial focus of this partnership was to assist interested industrial companies with energy efficiency projects, as well as to create and maintain a communications network where OER would document and report on all IEEP energy efficiency projects. This project would help illustrate successful projects and some of the various barriers of project implementation, while helping to identify further energy efficiency opportunities.
With regard to the final objective, through the IEEP, OER provided assistance and guidance to Idaho industrial energy users, while also providing follow-up assistance for those implementing the suggestions made in the assessment. OER would also follow up on at least 10 IEEP Level I assessments to identify the sites in need of additional Level II assessments and/or other professional services. OER would work with plant managers to develop an energy efficiency management plan, which illustrated the benefits of ongoing energy efficiency best practices.
Accomplishments
The EEDP pilot project, which helped cover the cost of hiring two new energy engineers within the J.R. Simplot Company, was very successful. At the end of the first year of the project, Simplot had saved 318,359 million British thermal units—accounting for nearly $3 million in energy costs. Despite not being able to directly attribute all savings to the EEDP, it was clear that the new energy engineers played an important role in implementing energy efficiency projects. The evidence was clear enough to Simplot that the company is keeping the energy engineers on staff after the project ends, but is also considering hiring an additional energy engineer.
In phase II of the EEDP, OER developed a case study that highlighted the success of the project and cost effectiveness of hiring energy engineers in an industrial facility.
The CHP feasibility analysis for TASCO was completed and presented to TASCO and Idaho Power executives for them to determine whether the CHP project is technically feasible to pursue. The feasibility study ultimately produced two major deliverables:
A pro forma spreadsheet analysis tool to allow continued project modeling
A comprehensive final report suitable for a broad range of readers.
The project team utilized the Industrial Refrigeration System Analysis Tool (ISAT), objective three's ESA tool for industrial refrigeration, to complete five scoping studies and two in-depth studies that included data logging on sorption heat recovery at industrial facilities.
For the IEEP, OER initially formed a partnership with TechHelp, the manufacturing extension partner within Idaho, as well as the Center for Advanced Energy Studies' Energy Efficiency Research Institute, the IAC serving industry throughout Idaho. Through email marketing, public workshops, and telephone outreach, OER, TechHelp, and the IAC provided a thorough outreach program throughout Idaho, informing the state's manufacturing industry of the services the partnership offered. Cumulatively, the partnership provided more than 35 industrial energy efficiency related outreach projects.
As a form of marketing and promoting industrial energy efficiency in Idaho, OER worked with project partners and other entities to establish the Idaho Awards for Leadership in Industrial Energy Efficiency. The awards recognized the industrial companies that are exceptional state leaders in energy efficiency, and the first recipients were recognized by Idaho Governor C.L. "Butch" Otter on January 7, 2014.
As part of the IEEP, OER provided technical assistance and professional services to some of the largest of Idaho's industrial customers, specifically focusing on customers too large for TechHelp and/or the IAC's program requirements, or focusing on projects too complex for the partners.  OER specifically provided direct financial assistance for five projects, with an approximate potential savings of more than $1.3 million.
In terms of ESAs performed, the program partners successfully completed four ESAs in Phase I and five ESAs in Phase II.
Program Highlights
| Program Activity | Number Completed |
| --- | --- |
| Energy Saving Assessments | 9 |
| Trainings | 8 |
| Energy Engineering  Demonstration Pilot | 1 |
| Industrial Energy Efficiency Project Implementation Assistance | 35 |
| Case Studies | 1 |
Project Mission
To effectively and efficiently support the conservation of energy and energy efficiency in Idaho's manufacturing facilities.
 
Project Funding
| | | |
| --- | --- | --- |
| Funding Source | American Recovery and Reinvestment Act of 2009 | U.S. Department of Energy, Advanced Manufacturing Office |
| Funding Amount | $350,000 | $285,000 |
| Project Period | 09/30/2009 to 06/30/2011 | 05/01/2011 to 12/31/2013 |
 
Project Benefits
Demonstrated the cost benefits of employing onsite energy managers.
Provided technical assistance and professional services to the largest of Idaho's industrial customers.
Created a partnership that combined industrial energy efficiency efforts throughout the state.
Primary Investigators
Idaho Office of Energy Resources, Boise, Idaho
Project Award Partners
Boise State University's Center for Advanced Energy Studies – Industrial Assessment Center, Boise, Idaho
J.R. Simplot Company, Boise, Idaho
Idaho Power Company, Boise, Idaho
Northwest Energy Efficiency Alliance, Portland, Oregon
TechHelp Idaho, Boise, Idaho
Washington State University – Extension Energy Program, Olympia, Washington
Contacts
Matt Wiggs
Idaho Office of Energy Resources
Phone: 208-332-1660
Email: matt.wiggs@oer.idaho.gov
Jamey Evans
U.S. Department of Energy
Advanced Manufacturing Office
Phone: 720-356-1536
Email: jamey.evans@ee.doe.gov
Sandy Glatt
U.S. Department of Energy
Advanced Manufacturing Office
Phone: 720-356-1544
Email: sandy.glatt@ee.doe.gov
Last Updated: October 2014