You are here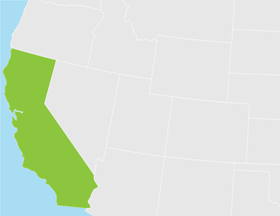 The industrial sector in California accounts for approximately one-third of the state's natural gas consumption and one-sixth of its electricity consumption. With approximately 50,000 industrial plants in the state, California manufacturers account for about 20% of the state's carbon emissions. California has established aggressive goals to help reduce energy consumption and carbon emissions that have required a reduction in energy use by the industrial sector; the state has also adopted the Energy Policy Act of 2005 objective to reduce industrial energy intensity by 2.5% annually during a 10-year time period.
The California Energy Commission's (CEC's) Industrial Energy Efficiency Program and its key program partners delivered a comprehensive package of training and technical assistance services to improve energy efficiency in California's industrial sector.
The Program delivered these services through this project award from the U.S. Department of Energy's (DOE's) Advanced Manufacturing Office (AMO; formerly the Industrial Technologies Program), which was 1 of 28 total awards (23 state, 5 regional) given in 2009.
Purpose
For this project, CEC awarded separate contracts to secure five Best Practices Qualified Instructors (BPQI) for the delivery of Industrial Best Practices (BP) training courses, and to conduct Energy System Assessments (ESAs) for steam, process heat, motors, pumps, fans, and compressed air systems. The five BPQI led the main efforts of the Program by conducting workshops and ESAs, researching and producing case studies, and providing expert technical support. Each activity coordinated by one of the BPQI was specifically designed to help the audience gain a better understanding of energy efficiency. In total, the BPQI helped companies throughout the course of the project.
Throughout the course of the project, CEC reached out to manufacturing, industrial, food, and agricultural partners to help achieve a variety of energy-saving measures. Due to the large prevalence of agriculture throughout California, CEC also formed an interagency agreement with the University of California Davis (UCD) Institute of Food and Agriculture Research (CIFAR) to increase the Program's exposure in this sector. Advances in water and energy delivery technology specifically tailored to agriculture provide the potential for huge savings if implemented across the state. CEC's goal for the CIFAR collaboration was to identify an additional 3%–5% percent in energy savings beyond that obtained from typical non-agricultural ESA, so that savings methodologies used in the food and agricultural sectors might be transferred to other advanced manufacturing and industrial sectors.
Accomplishments
CEC and its partners delivered services over a 3-year period to help DOE achieve the 2.5% annual industrial energy intensity reduction target set by the Energy Policy Act of 2005. Through this process, the Program has achieved more than 16 million kilowatt hours (kWh) in annual electricity savings and more than 14.6 million annual therms of natural gas savings. This translates into 6 trillion British thermal units of energy savings and a reduction in carbon dioxide emissions by more than 600,000 tons over this 3-year project period.
For example, one California snack manufacturing facility saved an estimated $150,000 in electricity by implementing a recommendation that incorporated industrial best practices.
In addition, a food-processing facility adopted Compressed Air ESA recommendations that improved its resource efficiency. As a result, the facility is able to save an estimated 131,477 kWh and $8,000 annually.
CEC, along with its CIFAR partner, worked closely with host utility training coordinators to schedule 30 workshops and 7 ESAs. In addition, CEC and CIFAR developed three case studies relating to their efforts.
Workshops conducted in the same vicinity as a recent ESA allowed the BPQIs to share local experiences without disclosing company-sensitive information. This was valuable, as similar advanced manufacturing, industrial, and agricultural production facilities tend to be situated in clusters geographically in California.
CIFAR's efforts included a special focus on the water energy nexus (WEN) in the food agriculture sector, and CIFAR worked with California food companies—like Ingomar Packing Company—to train them in WEN assessment methodology. CIFAR trained facility personnel on how to calibrate data loggers and use the DOE Steam System Assessment Tool, Pumping System Assessment Tool, and Fan System Assessment Tool.
CIFAR's work has also resulted in the development of a five-food industry Continuous Energy Improvement cluster that is supported by Pacific Gas and Electric ISO 5001, third-party service provider.
Program Highlights
| Program Activity | Number Completed |
| --- | --- |
| BestPractice Workshops | 30 |
| Energy System Assessments | 7 |
| Case Studies | 3 |
Project Mission
To advance the adoption of DOE's Advanced Manufacturing BestPractices, encourage the adoption of Energy System Assessment recommendations, and achieve energy and water efficiencies  by delivering a comprehensive package of training and technical assistance to California's advanced manufacturing industries.
 
Project Funding
| | |
| --- | --- |
| Funding Source | U.S. Department of Energy, Advanced Manufacturing Office |
| Funding Amount | $448,515 |
| Project Period | 11/01/2009 to 10/31/2013 |
 
Project Benefits
Provided energy assessments to identify energy-savings opportunities for manufacturers in the state.
Expanded the professional workforce through trainings on a variety of energy systems.
Advanced energy efficiency practices within the food agriculture sector in the state.
Primary Investigators
California Energy Commission,  Sacramento, CA
Project Award Partners
California League of Food Processors, Sacramento, CA
California Manufacturers and Technology Association, Sacramento, CA
City of Lodi Electric Utility Department, Lodi, CA
Edison CTAC, Irwindale, CA
Imperial Irrigation District, Imperial, CA
Manufacturers Council of the Central Valley, Modesto, CA
Pacific Gas and Electric Company, San Francisco, CA
Sacramento Municipal Utility District, Sacramento, CA
San Diego State University, San Diego, CA
San Francisco State University, San Francisco, CA
Southern California Gas Company, Los Angeles, CA
State of California Employment Training Panel, Sacramento, CA
Contacts
John Nuffer
California Energy Commission
1516 9th Street, MS 42
Sacramento, CA 95814
Phone: 916-653-851
Email: john.nuffer@energy.ca.gov
Jamey Evans
U.S. Department of Energy
Advanced Manufacturing Office
Phone: 720-356-1536
Email: jamey.evans@ee.doe.gov
Sandy Glatt
U.S. Department of Energy
Advanced Manufacturing Office
Phone: 720-356-1544
Email: sandy.glatt@ee.doe.gov
Last updated: July 2014