You are here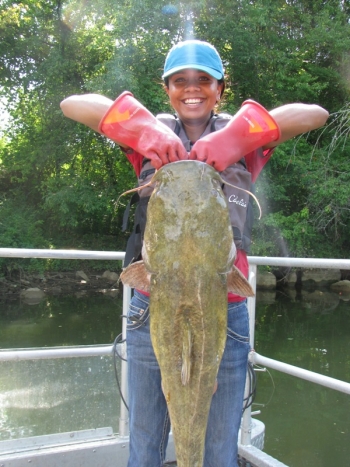 Teresa Mathews is an environmental scientist in the Ecological Assessment Science Team (EAST) at Oak Ridge National Laboratory (ORNL).
Check out other profiles in the Women @ Energy series and share your favorites on Pinterest. 
Teresa Mathews is an environmental scientist in the Ecological Assessment Science Team (EAST) at Oak Ridge National Laboratory (ORNL).  She received her Ph.D. in Coastal Oceanography from the School of Marine and Atmospheric Sciences at Stony Brook University in New York in 2007.  Her research is focused on understanding contaminant dynamics in aquatic ecosystems, and is particularly interested in understanding the biological and chemical processes that affect contaminant bioaccumulation in aquatic food webs.  Dr. Mathews has worked at the International Atomic Energy Agency in Monaco and the Institute for Radioprotection and Nuclear Safety in France on field and modeling projects related to radionuclide transfer in aquatic food chains.  At ORNL, she is the lead Principal Investigator of the Bioaccumulation Task of EAST, and works on various field and lab projects related to the biotransformation of mercury in the environment and the bioaccumulation of contaminants including mercury, selenium, and PCBs in algae, aquatic invertebrates, and fish.  
1) What inspired you to work in STEM?
I think I was always just curious about how things work, and STEM allows you to continually ask questions and try to find the answers.  I always thought learning, creating, and inventing new things was cool.  There are just so many opportunities to do really interesting, really important things in science. 
2) What excites you about your work at the Energy Department?
EVERYTHING!  As an environmental scientist, I love getting my hands wet, literally.  Every day is different—some days I get to go out and collect water or critters in a stream, and other days I am analyzing samples or doing an experiment in the lab.  Not only is my work fun, but I also feel that it is important.  In studying contaminated systems and figuring out ways to clean them up, I feel like I am making a difference.  Also, I love working with smart, creative people and getting exposed to the things that they are interested in.  I think we all learn from each other, and use our expertise and skills to come up with innovative solutions to some of the most important questions that we face today, globally.
3) How can our country engage more women, girls, and other underrepresented groups in STEM?
As far as engaging girls or underrepresented groups to pursue studies and careers in STEM, it is important that we make them aware of the diversity of options that a career in science offers.  Often, families from underrepresented groups don't encourage children to pursue a career in science because they are not aware of the career options, other than, for example, going to medical school and becoming a medical doctor.  There are so many things you can do with a science degree!  As far as keeping women engaged in STEM, I think it is important to offer flexibility in the workplace.  We women want it all!  Our careers are important, but family life is important, too.  Careers in science can often demand long hours at work.  Offering flexibility in terms of work hours, working from home when possible, or other things like child care at proximity to the work place can help early and mid-career women juggle the pressures of a demanding career without sacrificing on the other things that are important to us. 
4) Do you have tips you'd recommend for someone looking to enter your field of work? 
Environmental scientists need to be well rounded, because at a given study site, you need to understand the geology, chemistry, physics and biology of a system in order to effectively solve a problem.  Quantitative skills and effective communications skills (writing, public speaking) are so important for a scientific career.  Take as many math and writing classes as you can.  You'll be happy you did, no matter what career path you choose.  Try to get experience working in different labs and talking to as many people as possible about their work to figure out what really interests you. 
5) When you have free time, what are your hobbies?
I love to cook—it's a little science and a little art--because I love to eat good food.  I also ride a motorcycle and love to travel all over the world on it.