You are here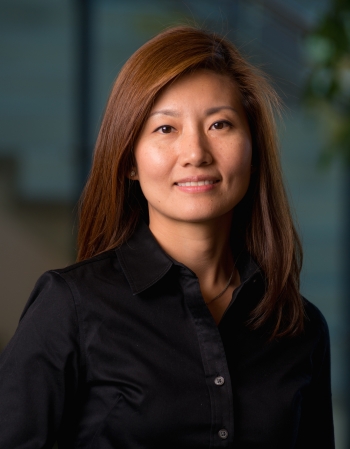 Nora Wang is a senior research engineer in the Electricity Infrastructure and Buildings Division at Pacific Northwest National Laboratory.
Check out other profiles in the Women @ Energy series and share your favorites on Pinterest.
Nora Wang is a senior research engineer in the Electricity Infrastructure and Buildings Division at Pacific Northwest National Laboratory. She has over ten years of research experience in building energy efficiency and sustainability. She received her doctorate in architecture from the University of Illinois at Urbana-Champaign. She began her career in architecture, gaining experience on international projects and winning several design competitions. In 2007, Nora led the Illinois Solar Decathlon team to win two contests in Washington D.C. Before joining PNNL, she was a building energy consultant at the Smart Energy Design Assistance Center in Illinois and an adjunct faculty member at University of Illinois, Urbana-Champaign. Since joining PNNL in 2010, she has been leading a variety of building research projects, such as Buildings of the Future, Connected Buildings, and Asset Score—an energy efficiency rating system and tool for commercial buildings. 
1) What inspired you to work in STEM?
I have loved architecture since I was a kid. After studying architecture and working in design firms, I realized that great architecture is more than just the look of a building. To improve many aspects of our buildings, I found powerful tools in building science and technology.  
2) What excites you about your work at the Energy Department?
I can see that my work is making an impact. I am helping architects and engineers design high performance buildings; I am helping building owners and operators reduce their building energy use; and I am helping the local jurisdictions and organizations to promote and remove the barriers to building energy efficiency. Being able to see the value of my daily contributions to society is satisfying. I am also excited that through this work, I have the opportunities to work with a variety of experts in the field of building science and technology.  
3) How can our country engage more women, girls, and other underrepresented groups in STEM?
By demonstrating the fun side of science and technology and building modern images of scientists and engineers – so often, there's this image of someone locked away in a laboratory all day.  We need to help them understand the scope of work that's out there and the many different options. They can't make the right decisions without adequate knowledge.
4) Do you have tips you'd recommend for someone looking to enter your field of work?
We interact with our buildings everyday everywhere. To improve how we build, operate, and maintain our buildings, there is a lot for us to explore. Building science and technology is a very broad field and you can find a variety of topics—building design, materials, constructions, mechanical and electrical systems, water, greenhouse gas emissions, indoor environmental quality, etc.—that may fit your interests and skills. Improving buildings is improving our daily life quality.
5) When you have free time, what are your hobbies?
I like painting and playing piano. I love traveling too—seeing buildings around the world is always on my agenda. From an architectural standpoint, Europe is fascinating – the styles of buildings from different periods, and seeing the evolution.  I've been impressed by many buildings in France and one of my favorites is the Louvre Pyramid in Paris– a good example when art meets technology.