You are here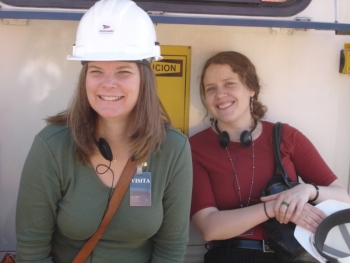 Dr. Kirsten Laurin-Kovitz (left) has nearly twenty years of experience in nuclear reactor analysis, nuclear material safeguards and nuclear nonproliferation.
Check out other profiles in the Women @ Energy series and share your favorites on Pinterest. 
Dr. Kirsten Laurin-Kovitz has nearly twenty years of experience in nuclear reactor analysis, nuclear material safeguards and nuclear nonproliferation. Currently, Kirsten leads the Technical Nonproliferation Policy Support Program, managing a team which combines expertise in science and engineering with specialized knowledge of nonproliferation policies and international affairs to provide reliable, high-quality technical advisory services and conduct outreach for policy implementation such as training to export control enforcement personnel on strategic WMD-related commodities. Kirsten first came to Argonne as a graduate student in 1993. In addition to her technical work, Kirsten served as Argonne's WIST Program Initiator from 2004-2006 and was instrumental in establishing and strengthening some of Argonne's key outreach programs (co-founded Introduce a Girl to Engineering Day for middle school girls in 2002 and served as chair of the Science Careers in Search of Women conference for high school girls from 2003-06) as well as creating internal programs to support women and under-represented minorities (co-founded Survival Skills Seminars). Kirsten earned a B.S. in general engineering from the University of Illinois, a M.S. in mechanical engineering from Northwestern University, and a Ph.D., also in mechanical engineering, from Northwestern University.
1)  What inspired you to work in STEM?
As the daughter of a Lutheran pastor and teacher, I did not even know about engineering until I was in high school. When I was a freshman my physical science teacher asked me if I had ever considered engineering as a career. He felt my strong math and science abilities made me well suited to engineering. I looked into engineering and found it to be a career in which one solves problems by applying mathematical and scientific principles. I decided to pursue a degree in engineering. Today I have a very fulfilling career providing technical advisory support and implementing nonproliferation programs. I often wonder, however, what if that teacher had not introduced me to engineering?
2) What excites you about your work at the Energy Department?
Argonne and DOE are filled with people who are dedicated to their mission – be it to push the boundaries of knowledge in the basic sciences or to develop solutions to today's energy problems or to address issues of national and international security. I'm very excited to be able to use my engineering skills and knowledge of nuclear reactors to contribute to making the world a safer place. The people I work with, both in the US and in other countries, are amazing and inspiring.  
3) How can our country engage more women, girls, and other underrepresented groups in STEM?
Our country and perhaps DOE specifically should invest in programs which introduce opportunities in STEM to underrepresented groups. Women continue to be underrepresented in careers like engineering and science. Today although there are more women going to college than men, fewer women than men study engineering. One possible reason is that women and girls are less familiar with engineering. Girls also seem to lose interest in subjects like math and science even though they perform just as well as boys in those subjects. Finally, because of the lower number of women in engineering, girls often lack role models; that is, they don't know any women engineers, so they may not consider it a career for women. As a young girl, I had no female role models in STEM careers. At Argonne we designed programs to show girls how creative and collaborative engineering is and how engineers impact the world. We focus on girls in middle school before they lose interest in subjects like math and science. Finally, we gather all the women engineers at Argonne to provide a variety of role models for the girls and hopefully they can see themselves in an engineering career someday. The U.S. needs to grow its technical workforce - including engineers - and women represent an untapped resource that can help the U.S. remain competitive. I believe these types of programs provide an opportunity for girls to learn about engineering first-hand from women engineers that can provide positive role models. If even a fraction of these girls choose engineering careers we are impacting the future. Many of these same points could be applied to other underrepresented groups. I believe we need to intentional about promoting STEM to these groups.
4) Do you have tips you'd recommend for someone looking to enter your field of work?
My advice to anyone going into engineering is to get involved in projects early and often. You'll learn what you like to do and what you do best and you'll gain valuable experience. Participate in the co-op program or find summer internships at places like Argonne so you get a real sense of what the work is like.
I'm not sure many students go into engineering or science thinking they will end up working in policy-related programs like nonproliferation. That said I believe strongly that technical input to public policy on a whole range of issues is extremely important. My recommendation is to find out what you are really passionate about and pursue that field, but remain flexible in what you ultimately do with your skills and knowledge. STEM is not just about the subjects we study in school, but about the impact we can have on the world when we apply ourselves.
5) When you have free time, what are your hobbies?
I try to spend as much of my free time as possible with my family. We watch movies, play board games, etc. I like to scrapbook to capture the memories of the people I love and the places I've been. I also work with the youth at my church and every summer travel somewhere in the U.S. for a service project with them. Finally, I sing in my church choir.