You are here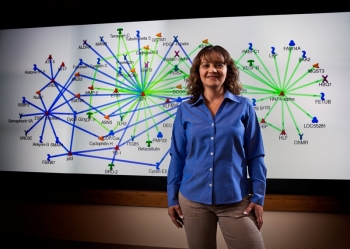 Dr. Katrina Waters, a senior research scientist at Pacific Northwest National Laboratory, uses proteomic and microarray data analysis, data integration and biomarker discovery to understand risks, such as the impact of energy-technology-related nanoparticles.
Check out other profiles in the Women @ Energy series and share your favorites on Pinterest.
For Dr. Katrina Waters, Pacific Northwest National Laboratory, progress is all about managing risks—whether it involves understanding the impact of energy-technology-related nanoparticles or building a career at the intersection of computers and biology. In the laboratory, Katrina conducts research into different risks using microarray and proteomic data analysis, data integration and biomarker discovery. She develops and integrates computational tools that allow scientists to analyze the large volumes of data generated by new high-throughput technologies. She also leads research into pathway-based biomarker discovery for environmental exposure to toxicants, toxicogenomic analysis of polycyclic aromatic hydrocarbon mixtures bioactivity and host-pathogen interactions during pandemic respiratory infections. Before joining PNNL, she worked at Merck Research Laboratories in investigative toxicology. She earned a Ph.D. in biochemistry from the University of Wisconsin and an A.B. in chemistry from Ripon College. She completed postdoctoral fellowships at the Mayo Graduate School of Medicine and the Chemical Industry Institute of Toxicology Centers for Health Research (now known as The Hamner Institutes for Health Sciences). Katrina is an adjunct faculty member at Oregon State University, where she is building collaborations with OSU faculty, mentoring graduate students, serving on thesis committees and advising faculty as they develop a new master's program in risk assessment.
1) What inspired you to work in STEM?
In high school, I fell in love with chemistry. I always liked science, but it came down to a couple of teachers that really inspired me. My physics teacher in high school was a Ph.D. scientist, quite rare. He did things to keep it fun and interesting—things that probably wouldn't be allowed anymore, like swinging a bike tire from the ceiling to demonstrate centrifugal force or using compressed air tanks to propel a wheeled cart down the hall to demonstrate potential energy. He challenged us to think about why things happen, which applies to what I do now. When I started my first postdoc, microarray technologies were just being developed to measure 200 genes at a time. Now, we can look at the entire genome in a single experiment. We generate omics data to see what happens in cells and tissues, which is an immense amount of data, and we make sense of the "why." Why does something happen and how can we fix it or change the system to protect it from a diseased state? If we can figure out how and why, then we can prevent damage or fix it.
2) What excites you about your work at the Energy Department?
I get excited about new problems where I can apply new methods to different areas of research, something we've learned in toxicology that can apply to infectious disease. I also enjoy mentoring young people and seeing them get excited about these doors opening up to them. Our legacy as scientists is growing the next generation.
3) How can our country engage more women, girls, and other underrepresented groups in STEM?
Many girls are interested in science growing up. Then, they discover science careers can be exclusive: you could have a career or family. When I worked at Merck Research Laboratories evaluating drug safety, it was 10- to 12-hour days and not much balance. That choice can push people away. It certainty can keep women out of high-impact careers.
In my current career, I found an opportunity that provided stability for my family. I still work just as hard. However, I realized that something had to give somewhere. So, I surround myself with bright people and find ways to lead them ahead. I don't have to be the bottleneck or point of contact for everything. I help people learn, get started, and take over.
4) Do you have tips you would recommend for someone looking to enter your field of work?
I would encourage people to be a jack-of-all-trades and master of none. If you only study one discipline, especially in biology, you will lack the vision to relate across the science domains. Big data and biotechnology are growing so much that multidisciplinary training is a must.
5) When you have free time, what are your hobbies?
I do like to cook in my spare time, and my grandmother taught me how to make jellies and jams, which I still like to do with the fresh fruits of the season. But, I really love to cook any kind of cuisine. It is almost like chemistry. You experiment to get the proportions right to get things to taste good.