You are here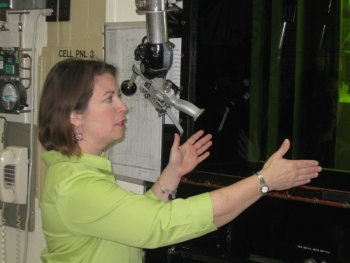 Julie G. Ezold works in the Nuclear Material Processing Group, Nuclear Security & Isotope Technology Division at Oak Ridge National Laboratory.
Check out other profiles in the Women @ Energy series and share your favorites on Pinterest. 
Julie G. Ezold works in the Nuclear Material Processing Group, Nuclear Security & Isotope Technology  Division at Oak Ridge National Laboratory. Julie has 20 years experience in the nuclear sciences and is currently the 252Cf Program Manager.  She is responsible for the technical aspects as well as the program management activities of each curium target campaign. Typical campaign activities include target fabrication, target approval for insertion into the High Flux Isotope Reactor, chemical processing of irradiated targets, and final source fabrication. These trans-curium products have recently been used in the discovery of a new element, Element 117. Julie actively supports nuclear science educational activities through the Nuclear Science and Technology Interaction Program, K-2 Science Club, Mentor Program, and others.  Her recognitions for these efforts include: 2007 UT-Battelle Awards Night for Exceptional Community Outreach, 2009 Patricia Bryant Leadership Award from US Women in Nuclear and a Presidential Citation from the American Nuclear Society in 2009. Julie holds a B.S. in Nuclear Engineering from Rensselaer Polytechnic Institute and a Master's in Nuclear Engineering from North Carolina State University. Her master's research was conducted at the High Flux Isotope Reactor at Oak Ridge National Laboratory. 
1) What inspired you to work in STEM?
My first impression of science and math came from my sixth grade teacher, Mr. Lucas.  He made these subjects exciting.  He was very animated when explaining topics to our class and he could apply the math to "real world" experiences at an 11-year old's level.  This excitement carried me through middle school and high school where I excelled at math and science, and was able to take advance placement courses.  
Then, the summer before my senior year of high school I had an opportunity to participate in a week long program at Lynchburg College, Lynchburg, VA.  Students had a choice of 13 different classes and I chose nuclear chemistry, since I loved chemistry and was getting ready to take the AP chemistry class.  While at Lynchburg, we learned about radioactivity, decay, isotopes, and nuclear power.  During this week we had lectures in the morning and performed experiments in the afternoon.  There was also a trip to the University of Virginia's research reactor.  I was so fascinated by this field that that I knew I was going to be a nuclear engineer.  I wanted to learn more and to really understand radioactivity.
2) What excites you about your work at the Energy Department?
I greatly enjoy the variety of opportunities that working at a national laboratory has to offer. There is always something new and exciting to pursue, something to discover and develop.  The facilities I have access to include the High Flux Isotope Reactor, which has one of the highest neutron fluxes of a research reactor, as well as the hot cell facilities at the Radiochemical Engineering Development Center.  The combination of these two facilities allows the research and production of the heavy actinide isotopes, the ones listed at the bottom of the periodic table. These isotopes can only be produced in significant quantities at two facilities - Oak Ridge National Laboratory and Dmitrovgrad, Russia.  In addition, these facilities along with other national laboratories lead to the discovery of a new element, 117. 
3) How can our country engage more women, girls, and other underrepresented groups in STEM?
I truly believe the way to engage more students in STEM is to excite them at a very young age.  I enjoy working with the younger students, starting at pre-K through 5th grade.  At this age they are genuinely curious and have fun with the different topics and activities.  If they view math and science as "fun" and can carry that relationship forward into middle and high school then they will want to continue into those fields.  The more opportunities that younger students have to see how science and math are all around them then the more they will want to continue learning.  
4) Do you have tips you'd recommend for someone looking to enter your field of work?
I always tell high schoolers and college students to find something that excites you; for you will spend more of your waking hours at your job then you will outside of it.  It should be everyone's goal to find a career such that when you wake up and the morning you are looking forward to going into to work.
5) When you have free time, what are your hobbies?
I really enjoy taking my 4-year daughter outside and discovering something new.  This may include looking for insects or lizards, finding seeds from different trees and determining where those trees are, or identifying the different animals around us.  
One of my biggest hobbies though is STEM outreach.  I love doing educational outreach activities for all ages.  I do a lot of class visits for the younger students (Kindergarten through 5th grade), and I have participated in SHADES (SHaring ADventures in Engineering and Science), which provides hands-on STEM activities for 6th and 7th grade girls for years. SHADES was adapted into a Science Expo that is held in Knoxville for K-5 students by myself and a co-worker.  Science Expo is a day-long hands-on workshop for 200 local school kids.  These kinds of hands-on activities with kids are really addictive!  
I also get to judge an essay contest sponsored by the local American Nuclear Society for middle and high school students; and lead one of the Science Saturday events sponsored by ORNL for ~140 local high school students.  Talking to the students and reading their essays reminds me of the reasons I got into science in the first place.