You are here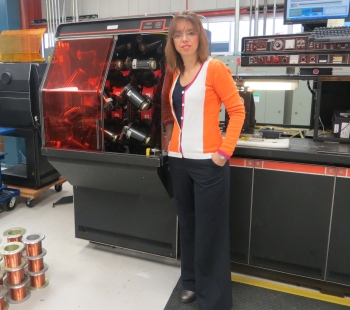 Emanuela Barzi has tirelessly devoted herself to applied superconductivity and its technological applications for the next generation of particle accelerators.
Emanuela Barzi has tirelessly devoted herself to applied superconductivity and its technological applications for the next generation of particle accelerators. Since 1997, she has built a first class lab at Fermilab to perform research on superconductors for accelerator magnets, and is now the leader of the R&D Group grown around such effort. Emanuela earned degrees in Nuclear Engineering and Physics at the University of Pisa. She came to the U.S. with a fellowship of the Italian Department of Foreign Affairs. In the 16 years since then, she has CO-AUTHORED 182 peer-reviewed publications, GIVEN 81 talks and seminars and worked closely with industry, international colleagues, and educational programs. In addition to her award-winning research, Emanuela has established and run educational programs for undergraduate and graduate students in Physics and Engineering from Italian Universities, bringing them to Fermilab and other DOE facilities to receive hands-on training. Last year Emanuela was elected a Fellow of the American Physical Society "for her innovations in the development of advanced superconductors, her continuous efforts in promoting International scientific collaborations, and her unwavering mentoring of US and Italian students".
1)    What inspired you to work in STEM?
Since I was a child, I have been very interested in science and math. I was also an avid literature reader. Being born in Brussels, at the heart of Europe, for some reason I loved reading Russian literature in French, but figured from an early age that to become versed in science and technology, which are challenging fields, one needs to invest in advanced education in those fields and hopefully cultivate other cultural interests on the side.
2)    What excites you about your work at the Energy Department?
I have had the good fortune of working in research and development from the start. After a fascinating stint in particle physics, at Fermilab I was given the opportunity to stretch my capabilities and set up my own research lab in applied superconductivity. Collaborating with universities and industry fostered sufficient external interest and funding that helped in creating my own research group in the Technical Division. We now have 6000 square feet of lab space, equipped with numerous experimental setups that I designed in collaboration with my group members, students, colleagues and visiting scientists. We are proud to serve a large number of FNAL and inter-lab projects that require superconductor development. Since 1998, the Superconducting Strand and Cable R&D Lab has served as experimental environment for 30 graduate students in Physics and Engineering to receive hands-on training in superconductivity, strain theory, heat transfer, cryogenics, mechanical design, electronics, computing and automation during Summer internships or Specialized Laurea or Ph.D. theses. It is undoubtedly extremely exciting to contribute to such cutting-edge research and inspire or give so many students the opportunity to become involved. 
3)    How can our country engage more women, girls, and other underrepresented groups in STEM?
This is a most difficult question over which several of us and great thinkers alike may have lost their sleep. It is clear that women are very much underrepresented, and those who succeed to the highest levels appear as exceptions who are few and far between. As candid statements go, I will share that in my experience the seemingly old concept that women have to put in 200% to have a chance at recognition is unfortunately still true. For some reason that still eludes me, but that I think has much more to do with perception and some kind of atavistic bias than we may be ready to admit, women are not treated equally yet, and those who assess the opposite are presumably talking politics. We have to change the culture by opening our minds. Our STEM community would be ideal to start changing things, thanks to scientists' and engineers' strive for truth and objectivity.
4) Do you have tips you'd recommend for someone looking to enter your field of work?
I have come into this business with a perhaps not too exotic approach, which was simple and straightforward: work hard to earn your stripes and shut up until you have something to say. In time, however, I came to realize that this may be too naive. Shyness does not pay, as it is important to have one's voice heard. Also, political support is often needed to make one's work more visible. Women may lose in this respect until they build a critical mass to effectively support each other better than within such a scattered population.
5) When you have free time, what are your hobbies?
I used to play the piano in high school. I got a piano diploma from a Music Academy in Brussels by playing a piano concerto by Shostakovich, who incidentally - I recently found out - was also a proponent of women's rights. Now, however, I am a very rusty player. Among the few who sometimes endure my music are my two handsome children Leo, 12, and Brando, 2, who add an embracing dimension to a challenging life.