You are here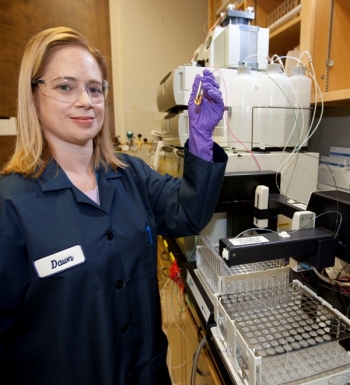 Dawn Shaughnessy has recently been appointed group leader for the newly created Experimental Nuclear and Radiochemistry Group, in the Chemical Sciences Division at Lawrence Livermore National Laboratory.
Check out other profiles in the Women @ Energy series and share your favorites on Pinterest. 
Dawn Shaughnessy has recently been appointed group leader for the newly created Experimental Nuclear and Radiochemistry Group, in the Chemical Sciences Division at Lawrence Livermore National Laboratory. Dawn is also the Responsible Scientist for radiochemical debris collection at the National Ignition Facility. In addition, she is the project leader of the Lawrence Livermore National Laboratory heavy element program, which announced discovery of element 117. Dawn's general research interests include actinide and heavy element chemistry, chemical automation, nuclear forensics methods and radiochemical diagnostics.  She has been a staff chemist at Lawrence Livermore National Laboratory for 10 years.  Most recently she was awarded the Department of Energy Office of Science Outstanding Mentor Award (2010), the Gordon Battelle Prize for Scientific Discovery for the discovery of element 117 (2010), and was inducted into the Alameda County Women's Hall of Fame for Scientific Discovery (2012). Dawn received a B.S. in Chemistry from the University of California at Berkeley, and her Ph.D from the same institution with a focus on nuclear chemistry.
1) What inspired you to work in STEM?
I always found all aspects of science fascinating. Throughout school I was very engaged in all of my science classes and I knew that if I pursued a career in one of the STEM areas, I would always feel challenged and would get to do research on exciting problems. I enjoy being challenged every day and working in STEM means there is always a new issue or problem to solve and I always feel satisfied that my work is helping to understand the world around us. Science is an area where I truly feel proud about the work I do every day.
2) What excites you about your work at the Energy Department?
Working on Department of Energy projects, such as my work at the National Ignition Facility, allows me to tackle big science problems that I couldn't do at a smaller laboratory.  The idea that I am working on diagnostics for the world's largest laser and fusion energy is mind blowing. Only at a national laboratory would I be able to participate in science projects of that magnitude. The challenges that the Department of Energy offers to scientists to solve are the ones that will really make an impact for future generations.
3) How can our country engage more women, girls, and other underrepresented groups in STEM?
We still need to work on the image of women in science and really promote the idea that a woman who studies one of the STEM disciplines is not like our typical view of scientists on TV.  All too often, a young girl may find science really fascinating, but once she enters later grades in school, there is an image that she will have to give up other things in her life to pursue science.  We need to somehow get the message out that science is not an all or nothing endeavor.  Most women scientists have families, hobbies, and rich lives outside of the laboratory.  We also need to promote STEM to the parents of these children.  Without even realizing it, parents often dissuade their young girls from pursuing their interests in STEM because of their own preconceived notions of how a female scientist should look or act.  Or they may even think their young girls cannot succeed because we still don't associate women with the sciences, and they may encourage them to pursue a more traditional career path.  It may take a long time, but if we start showcasing women scientists as role models who do not look like the stereotypes shown on TV, the message will eventually come across.
4) Do you have tips you'd recommend for someone looking to enter your field of work?
A well rounded education in science and mathematics.  The math is really important for most areas of science, and the stronger someone is in math, the easier it will be for her to succeed in any of the sciences.  In addition, don't get too focused.  If someone for instance wants to go enter chemistry, that person should also make sure to study physics, earth sciences and even some life sciences.  I have found that all of the science disciplines work together in solving problems, and the more well rounded someone is, the easier it is for that person to see the big picture of how the world works around them.  Studying hard in high school is also really important so that someone has a chance to enter a good college.  A college education is one of the most important things a person can have and nowadays it is essential for future success.  The only way to make sure college is in someone's horizon is to make sure they study hard in high school.  I also recommend specifically for chemistry to have some laboratory experience during school.  In college, a student can often find internships in various laboratories.  This hands on experience is often even more valuable than the classroom based study.  In my day to day work life, I still use techniques and methods I learned as an undergraduate student researcher working in a nuclear chemistry laboratory.  This kind of experience will also make it easier for someone to get a job after school.
5) When you have free time, what are your hobbies?
These days I mostly spend time with my daughter.  We like to do all sorts of activities together, such as going to amusement parks and the zoo, taking walks or hikes, going to the playground, gardening, and watching movies.  I also enjoy spending time at the beach, going wine tasting, or going to hockey games.  We are season ticket holders to the San Jose Sharks and I enjoy that my daughter is old enough to go with us and really enjoy the games.  Before my daughter was born, I also liked to play in poker tournaments and was a member of theLawrence Livermore National Laboratory bowling league for several years.