You are here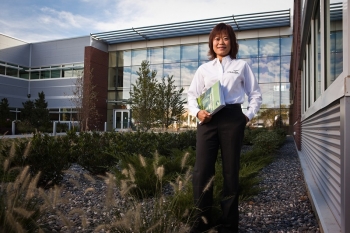 Bing Liu, chief research engineer, is the team lead for the Building Energy Simulation Team in the Pacific Northwest National Laboratory's Energy and Environment Directorate. Liu's team advances technologies and concepts to improve the energy efficiency of commercial and residential buildings.
Check out other profiles in the Women @ Energy series and share your favorites on Pinterest.
Bing Liu is a chief research engineer in the Building Energy Systems group at Pacific Northwest National Laboratory. She is also a program manager overseeing PNNL's Building Energy Codes Program, a multi-million dollar program funded by the U.S. Department of Energy and leads a team of over 20 staff across business units to support the development and deployment of energy codes and standards for buildings.  Bing is an internationally recognized technical expert in the buildings energy efficiency area. She has nearly 20 years of experience in building energy simulation, sustainable building design, codes and standards development, and high-performance building metering and measurement.  She earned a master's degree in thermal engineering from Tianjin University, China and is a registered professional engineer, a certified energy manager, and LEED Accredited Professional. She is frequently invited to present on building energy efficiency related topics and has published over 30 journal papers, conference proceedings and technical reports, including serving as the lead author for the Advanced Energy Design Guide for Small to Medium Office Buildings, an award-winning book focused on design guidance for low-energy use office buildings. She was also selected as an ASHRAE Distinguished Lecturer and presented technical seminars internationally, selected as Tri-Cities Engineer of the Year, as was honored with the ASHRAE Distinguished Service Award.
1) What inspired you to work in STEM?
I love math and like to solve problems. I have always been fascinated by architecture and buildings. I dreamed of becoming an architect, but I realized – painfully – that I didn't have any talent in drawing.  Building engineering turned out to be a natural choice for me, as it is hard-core engineering that requires advanced math skills and problem-solving, so it provided me the opportunity to follow my dream to work on buildings.
2) What excites you about your work at the Energy Department?
Buildings account for more than 40 percent of the energy consumption in our country.  It is an exciting time to work in the area of building energy efficiency.   Recently, President Obama announced new executive actions that make building energy efficiency one of key strategies for tackling climate change.  One of the important provisions of the President's energy savings initiative focuses on supporting adoption of the most current commercial building codes. This is exactly the area that I have been leading PNNL researchers to work on.  As a matter of fact, the numbers quoted by the White House were provided by us.  The impact of our research work and potential to leave a better world to our next generation really inspire me and excite me about my work at the Energy Department. 
3) How can our country engage more women, girls, and other underrepresented groups in STEM?
I grew up in China and went to graduate school in China as well.  After coming to the U.S., I was surprised to find out that frequently I was the only woman in the room full of male mechanical engineers.  This is not the case in China or Singapore, another country where I have worked in the past.  I think it requires a fundamental change of culture and stereotype in the United State to engage more women and girls in STEM.  We can provide more opportunity to girls at high school as summer interns and team up them with women scientists and engineers as mentors.
4) Do you have tips you'd recommend for someone looking to enter your field of work?
Take advantage of DOE's student internship program and work with subject experts on real projects – this  will provide a jump start on this field of work.  Join the local chapter of ASHRAE, USGBC, or other professional societies. The engagement of professional societies will provide a networking, mentoring and employment opportunities.
5) When you have free time, what are your hobbies?
Running, hiking, biking, cooking, traveling, playing with my wonderful boys, and reading.