You are here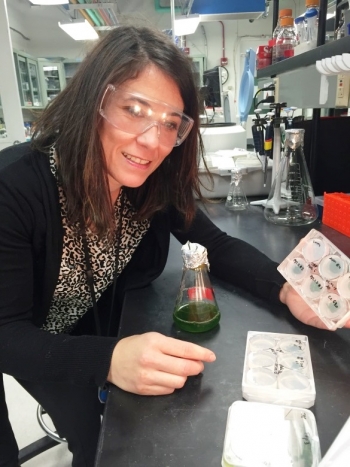 Dr. Alexandra Dubini is a research scientist at the National Renewable Energy Laboratory, Golden CO.
Check out other profiles in the Women @ Energy series and share your favorites on Pinterest.
Dr. Alexandra Dubini is a research scientist at the National Renewable Energy Laboratory, Golden CO. She started her academic studies in France and moved to the UK where she obtained her BSc of science and her Ph.D. from the University of East Anglia, UK in molecular biology. At the time, she studied the targeting of metalloenzymes in E. coli and in particular hydrogenases.  She then moved to the USA to pursue a postdoctoral fellowship at the National Renewable Energy Laboratory, Golden CO. Shortly after, she became a research scientist, and is since then conducting research on biofuels production in green algae. She has been extensively working on algae physiology and has expertise in genetics, molecular biology and biochemistry.
Her main research is focused on understanding the metabolic pathways involved in biofuel production, in the green alga, C. reinhardtii. More specifically, she is investigating the metabolic switchboard controlled by small proteins called ferredoxins (FDXs), and identifying their importance in particular metabolic pathways related to biofuels, given the convergence of many fuel-producing, biochemical pathways at the level of FDX. She's trying to understand for example the rate‑limiting factors involved in hydrogen production and the competitive pathways at the level of FDX as well the function of FDXs in other major biofuel pathways involved in lipids, ethanol or carbohydrate production. Her research will help better comprehend and optimize the biofuel production in green algae.
1) What inspired you to work in STEM?
I've always been interested in biology as a living system, and at school my favorite topic was biology. I found fascinating studying microorganisms and trying to understand how they work! At first I wasn't sure what research area I wanted to explore but hydrogen/biofuel became rapidly an evidence when I finished my undergrad studies.
2) What excites you about your work at the Energy Department?
Every day I am excited to think that I work with living organism that can be domesticated to produce biofuels and that one day, hopefully, we'll be able to use this technology and commercialize it for the society. I found also very motivating to know that the Energy department mission is to address the energy, environmental and nuclear challenges of the nation through transformative science and technology solution. The national laboratories are directly involved in developing new technologies through basic research and applied sciences. They offer multiple ways and look at different aspects to research one particular problem, which makes it very compelling for a scientist.
3) How can our country engage more women, girls, and other underrepresented groups in STEM?
Women need to be encouraged to follow scientific studies at a very young age. Fear of competition is usually an obstacle but if we encourage more young girls to do science they will feel more confident to follow this path. We also need to have more women mentoring young women. It's not a linear path and you have to be strong enough to not give up sometimes but it's all worth it when you reach your goals.
4) Do you have tips you'd recommend for someone looking to enter your field of work?
Find internships or any kind of programs linked to a laboratory and apply. Do not give up and look for mentors that will help you and support you throughout your career. I was lucky to always have great mentors around me from my studies up to my present career and that's what allowed me to be where I am today. Follow your passion and be dedicated to your work. Enjoy team work and always look for original ideas, but at the end science should remain fun!
5) When you have free time, what are your hobbies?
I practice yoga and ski a lot. I am also very passionate about dancing and love ballet/dance shows.
Colorado is a great state where outdoors activities are king! The weather is usually amazing and allows us to enjoy the nature available all around us.