You are here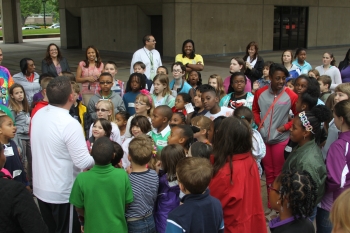 Participants in 2012 Take Our Daughters and Sons to Work Day got an exercise session hosted by the staff of the Forrestal Occupational Health Organization.
Parents are the first role models that children see. Take Our Daughters and Sons to Work Day, held on Thursday, April 24, 2014, allows children and family members of Department of Energy employees to have a day in the life of the Department of Energy workforce, seeing first-hand the innovative work and activities in our daily work and giving them insight into future work opportunities.
From 9am-10am, gather in the Main Auditorium in Forrestal for a brief welcome program and day-in-the-life highlights from DOE program offices. Learn what speechwriting, map-making, energy literacy, and fitness & health are all about at the Department of Energy. RSVP to diversity@hq.doe.gov
From 10am-12pm, come to 1E-245 to learn about Activities and Jobs in Energy Efficiency.
For lunch, take advantage of the IL Creations cafeteria children's lunch special - a $4.99 children's lunch includes entrée, side, and beverage choices.
From 1:30-2pm, go to the seal in the main lobby at Forrestal to get your family photo taken by a Department of Energy photographer. Photo releases will be provided, and you can order a print through the Office of Economic Impact and Diversity following the event.
This experience should help girls and boys to examine their opportunities, build self-esteem, have additional one-on-one time with their parents, and strive to reach their fullest potential.