You are here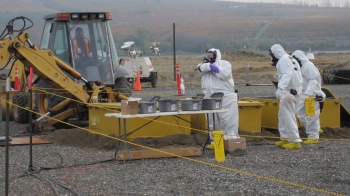 TerranearPMC at work on anomaly sampling in the 300 Area of Hanford.
TerranearPMC is no stranger to working with the government. These graduates of the Department's Mentor Protégé Program founded their company with eye towards working in federal marketplace, with employees who had background in government contracting and some initial business savvy in what the agencies needed.
Their insight paid off again last month, when the Office of Environmental Management awarded them a $2 million task order for technical support services. Spanning two years and a one year option extension, this Indefinite Delivery/Indefinite Quantity contract covers support for External Technical Reviews and Technology Readiness Assessments, program planning, developing test plans, technical conferences; organizing and leading peer reviews; development, implementation, and oversight of a detailed integrated task plan for technology development and testing of waste forms; and strategic and program planning associated with tank waste storage, retrieval and treatment.
"We do everything you can do in environmental remediation and waste management," said Kenneth Fillman, TerranearPMC's Chief Executive Officer. "Investigations, engineering, regulatory documents, remedial actions, waste transportation and shipping and long term monitoring. We are about to graduate from 8(a) so we are engaged in strategic business planning process to look at the other services the current clients are going to need that are complimentary to what we do now."
TerranearPMC was born when Terranear, est. in 2000, and PMC, est. in 1989, merged together. The owners both wanted new challenges and to grow our business. "We believe we're stronger together than we were separately," said Fillman. They immediately looked to agencies they felt they had kinship with and where we could be successful given our background in commercial nuclear and waste management.
TerranearPMC's first major Department of Energy contract was for Los Alamos. They had researched the market to see where they would fit, Fillman said, and made sure they had a unique service or competitive advantage to have the customer see their value. "We got it and performed, and now we get more jobs based on the quality, cost competitiveness and safety of our work. We wouldn't have done anything differently, we always want to fill a niche in the DOE market," Fillman said.
A big reason TerranearPMC was so successful in growing their business was their participation in the Department's Mentor Protégé Program, which encourages pairings of small businesses and large contractors to develop business. "We had a terrific experience as a protégé with Washington Closure Hanford very early on in their contract," Fillman said. "They asked us where we want to take and grow our business, we wanted the opportunity to perform larger and more complex remedial closure projects and boy did they give us that opportunity."
For more information about the Department's small business contracting opportunities, search the acquisition forecast at http://hqlnc.doe.gov/forecast