On Tuesday, June 18, 2019, Director of the Office of Economic Impact and Diversity the Honorable James E. Campos hosted the Equity In Energy™ Hispanic Stakeholder Discussion at the Department of Energy (DOE) headquarters in Washington, D.C. This is the first in a series of meetings to solicit feedback directly from leaders in the community, and facilitate an increased open dialogue with Departmental elements.
Following the presentations, the conversation opened up for the stakeholders to share their insights into the current challenges they face and discuss with DOE ways to address these challenges today and in the future and how to access the growing opportunities.
­­Jose Perez, chairman and CEO of Hispanics in Energy (HIE), shared that California legislators are considering a ban on internal-combustion engines by 2040, which opened the discussion to the effect the legislation would have on automobile manufacturing, thus affecting multiple sectors of the energy economy. Assistant Secretary Winberg predicted there would be an increase in electric cars being manufactured.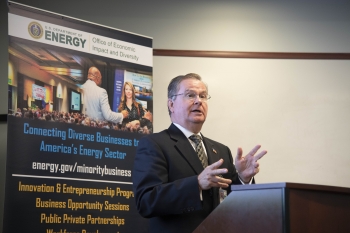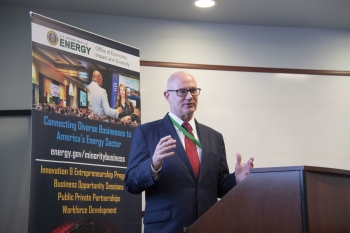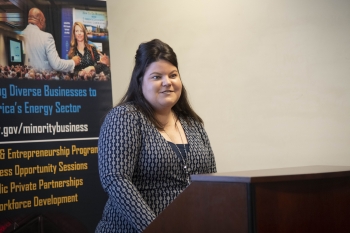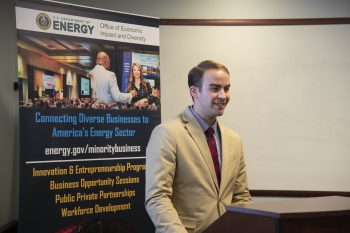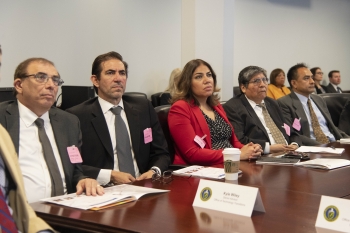 A major topic of discussion was how the Department of Energy plans to support younger generations entering the energy field. Mr. Wiley cited that through technology competitions like Cleantech University Prize (Cleantech UP), they are exposing college students to the different ways they can make an impact on the energy sector. Assistant Secretary Winberg noted the importance of internships like the Office of Fossil Energy's Mickey Leland Energy Fellowship Program. However, he stressed that these internships must involve more than just making copies; interns must have substantive tasks or projects. Kathryn Barrera from the Hispanic Association of Colleges and Universities reminded everyone to include community college students in the conversation, as "this can be and is a pivotal time to change the course of their lives."
At the conclusion of the meeting, attendees were able to network with each other and with Department of Energy staff to continue dialogue in the future.