In May, the United States observes Asian American Pacific Islander Heritage Month. During this time, we celebrate the remarkable accomplishments of Americans of Asian and Pacific Islander heritage that have enriched our great country and helped define our history. These Americans bolster our economy as entrepreneurs, business owners, and employees who initiate and expand opportunities for their families, communities, and country. Their languages, art, cuisine, and other cultural elements have enriched the American experience, and many have fearlessly answered the call of duty to defend our freedom as members of our Armed Forces. Learn more about this year's theme in the Presidential Proclamation on Asian American and Pacific Islander Heritage Month, 2019.
On May 7, the Office of Economic Impact and Diversity hosted a celebration of Asian American Pacific Islander (AAPI) Heritage Month at the Department of Energy (DOE) headquarters in Washington, D.C., and was broadcast live across the DOE complex. Marilyn Madarang, an attorney in the Litigation and Enforcement Division at DOE's Office of General Counsel, served as host. Marilyn also serves as president of DOE's Asian American and Pacific Islander Network (AAPIN). The theme was "Unite Our Mission by Engaging Each Other." This year's program included opening remarks from the Director of the Office of Economic Impact and Diversity the Honorable James E. Campos, who praised the varied contributions of Asian Americans and Pacific Islanders in all sectors of American life.
In his keynote, Jimmy H. Rhee, Special Secretary of Small, Minority and Women Business Affairs for the State of Maryland, gave a powerful speech on the challenges and achievements in the Asian American and Pacific Islander community. Special Secretary Rhee described the challenge of being labeled the "model minority." While Asian Americans and Pacific Islanders as a whole are very successful, many groups within struggle. For example, the Southeast Asian community has the lowest high school graduation and bachelor's degree rates of 30% to 40%. Interestingly, Special Secretary Rhee explained that the term "Asian American" was coined to persuade the government to recognize them as a distinct group, not just "other" on the census. The theory was that this would better direct resources from the government to them.
Special guest Suhail A. Khan, director of external affairs at Microsoft Corporation, spoke eloquently on the privileges and responsibilities inherent in being an American, that it is a promissory note, and we need to work hard to better ourselves. He highlighted the patriotism of the 442nd Regimental Combat Team during World War II, which was comprised primarily of Americans of Japanese ancestry who served with honor and distinction even while some had families in the internment camps in the United States.
Additionally, there was a panel discussion on the AAPI representation in Media and the Arts, which was moderated by Krystal Laymon, policy advisor with the DOE's Strategic and Interagency Initiative Team. Cori Dioquino, actress and founder of the Baltimore Pasifika Arts Collective, explained the difference between "colorblind casting," where an actor's race is immaterial, and "color-conscious casting," where race is acknowledged in the performance and deepens the character development. Noriko Sanefuji, museum specialist with the Smithsonian's National Museum of American History, shared her experience curating Righting a Wrong: Japanese Americans and World War II and told the audience "you matter, your story matters." David Yao, director of the Asian American Film Festival, encouraged attendees to reach out and become known in their community.
Thank you to Special Secretary Rhee, Mr. Khan and the esteemed panelists for sharing their perspectives.
PHOTO GALLERY: DOE Celebrates Asian American and Pacific Islander Heritage Month
See all event photos on Flickr.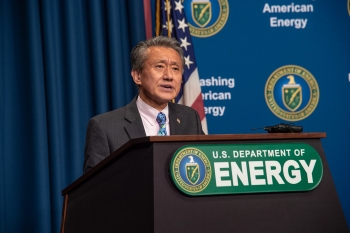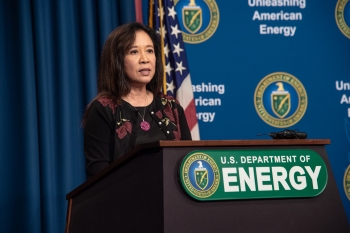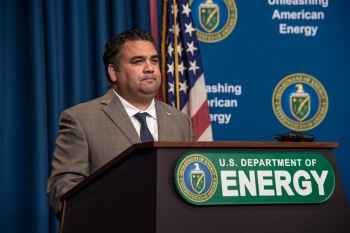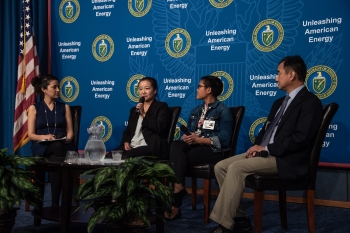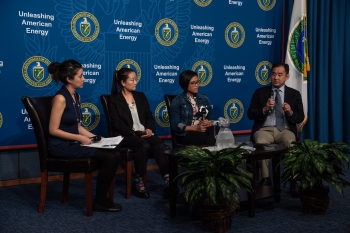 For those unable to attend, below is the program in its entirety.