You are here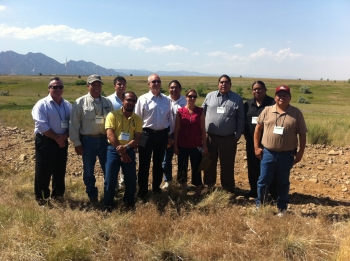 Senior Advisor for Environmental Management David Huizenga, fifth from left, and EM Office of External Affairs Director Paul Seider, first from left, stand for a photo with leaders and staff members of the Tribal Nations while on a tour of the Rocky Flats site following the Tribal Leader Dialogue in Denver on Tuesday.
Engaging with the leaders of Tribal Nations is critical for the Energy Department. Last week in Denver David Huizenga, Senior Advisor for Environmental Management, and I met with the leaders of eight Tribal Nations to discuss progress in the nuclear cleanup and build partnerships to better shape the future of Energy Department sites.
This dialogue marked the largest gathering of leaders of Tribal Nations located near our Office of Environmental Management cleanup sites with senior Department of Energy officials for a high-level discussion.
As this cleanup work is done, the involvement of tibal leaders is imperative. During the State and Tribal Government Working Group meeting, Tribal Leader Dialogue participants discussed ways to improve consultation, communication and collaboration between the Department and the Tribal Nations to better develop mutual visions for economic development while addressing immediate issues related to EM's cleanup.
David Huizenga, the leader of the conversation, spoke about EM's committment to understanding tribal issues and meeting their needs around EM cleanup sites. I shared information about economic development opportunites and ways tribal nations and individual Native Americans can plan for success in federal contracting. Our Office of Indian Energy Director Tracey LeBeau called in, and David Conrad, the Director for Tribal and Intergovernmental Affairs, attended the meeting and listened to the needs of the tribal leaders.
The Tribal Nations in attendance at the unprecedented gathering are located near the Hanford and Idaho sites, Los Alamos National Laboratory, Nevada National Security Site and West Valley Demonstration Project. Potential economic development opportunities, such as long-term surveillance and monitoring, protection of cultural rights and resources, and asset revitalization initiatives all exist at these sites. At the meeting, Greg DuMontier, a member of the Montana-based Confederated Salish and Kootenai Tribes, spoke about his tribe's success in starting an IT business owned and operated by the tribe. He encouraged the tribal leaders to expand companies that can push forward and provide growth opportunities for their people.
As I wrote in a recent blog post, we need to work closely on a government-to-government level with Tribal leaders, following the unique legal and political relationship with Indian tribal governments that is rooted in the United States Constitution, treaties, statutes, Executive Orders, and judicial decisions. I welcome more dialogue opportunities like the one in Denver to continue this close relationship.