You are here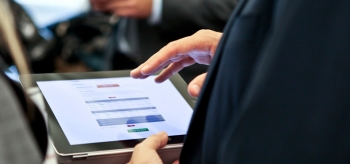 Applications powered by open energy data were on display at the Energy Datapalooza in June 2012. | Photo by Sarah Gerrity, Energy Department.
Last November, Secretary Moniz announced the launch of the American Energy Data Challenge -- a four-part, year-long initiative designed to introduce the public to the Green Button standard; to showcase open data and resources offered by the Energy Department; to solicit feedback about the data, its organization and presentation; to spur the creation of new tools and apps for the American public; and to solicit public input on how energy generation, distribution and use could be transformed to better serve our 21st century society and economy.
On Tuesday, I presented at the Safety Datapalooza, which brought together innovators from the private, nonprofit and academic sectors who have utilized freely available government data to build products, services and apps to advance public safety in creative and powerful ways. The Energy Department highlighted its prototype for a mobile application called "Lantern" that will address three critical needs: timely disaster preparedness tips and recommendations; checking power status and reporting downed power lines; and finding fuel and reporting the operating status of gas stations. The Weather Channel has also committed to promote three hashtags that American citizens can use to assist in crowd sourcing the data regarding downed power lines and the status of gas stations: #powerlinedown, #gotfuel and #nofuel.
Today, I am pleased to announce the launch of the second contest in the challenge: Apps for Energy II, which runs now through March 2014. In Contest #2, participants will be invited to use featured Department of Energy data, standards and ideas to develop apps that solve real world energy problems -- for the chance to win cash and other prizes.
Participants can develop apps on their own or join forces with other developers and designers at a series of upcoming "hackathons" -- events where contestants can meet others, brainstorm ideas, form teams and start working on apps that could potentially benefit millions of American energy consumers.
Hackathons to support Contest #2 will be held in the following cities over the coming months:
Washington, D.C. -- Jan. 24-25, 2014, at 1776 DC (1133 15th Street NW, Washington, DC)
San Diego, California -- Jan. 31-Feb. 1, 2014, at San Diego Gas & Electric Energy Innovation Center (4760 Clairemont Mesa Blvd., San Diego, CA)
Valley Forge, Pennsylvania -- Feb. 7-8, 2014, at PJM Interconnection (2750 Monroe Boulevard, Audubon, PA)
Boston, Massachusetts -- Feb. 15-16, 2014, at Hack/Reduce (275 3rd St., Cambridge, MA)
Contestants can win prizes at their local hackathon and/or by submitting their app any time between Jan. 17 and March 9 for judging as part of this nationwide contest. More information and rules can be found at http://energychallenge.energy.gov. Distinguished judges will select overall winners in multiple categories and a "People's Choice Award" will be chosen. Grand prize winners will be announced in late March.
After this round, there will be two more opportunities to participate and win prizes. Contest #3 -- Energy Data by Design -- will launch in April and conclude in June. Contest #4 -- The American Energy Challenge -- will launch in July and conclude in October. Contest #1 invited the public to submit ideas for high-value energy data exploration, data sets they wished were available and ideas for killer apps using available energy data. Over 100 incredible ideas were submitted and winners were announced on Dec. 19, 2013.
Good luck! Visit http://energychallenge.energy.gov to learn more.