You are here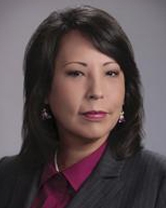 Tracey A. LeBeau (Cheyenne River Sioux) is the Former Director for the U.S. Department of Energy's Office of Indian Energy Policy and Programs. She was appointed in January 2011 to establish this new Office which is authorized by statute to manage, coordinate, create and facilitate programs and initiatives to encourage tribal energy and energy infrastructure development. Administratively, the Office was established to also coordinate, across the Department, those policies, programs and initiatives involving Indian energy and energy infrastructure development.
Ms. LeBeau has over 15 years of energy investment, start up and energy development experience. She has served in executive capacities for numerous energy businesses throughout her career, including an interstate pipeline, wind development and investment company, energy trading business and other energy development companies. More recently she served as Principal at SNR Denton, a top 25 international law firm, where she advised a variety of institutional investment and governmental clients on a range of issues related to energy, including wind and solar development, siting and permitting, transactional matters and electric transmission. At SNR Denton, Tracey was co-chair of its Renewable Energy Practice and was also listed in Chambers 2010 top rankings in Indian Law.
Prior to SNR Denton, Tracey co-founded Red Mountain Energy Partners, an energy technical consultancy firm, and was Vice President of Innovation Investments, a private equity firm where she originated and managed development of large-scale wind projects. With respect to conventional energy development, Tracey previously served as Vice President for midstream gas companies Earth Energy Environment, LLC and E3 Canada Corporation. Prior to that, she was a Director at Kansas Pipeline Company, an interstate gas pipeline, and a Director for American Energy Solutions, Inc., an electricity and gas marketing firm.
Ms. LeBeau received her A.B. from Stanford University and her J.D. from the University of Iowa.