You are here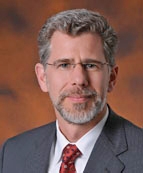 Dr. Richard G. Newell was the Administrator of the U.S. Energy Information Administration (EIA). He was sworn in on August 3, 2009 as the seventh Administrator of the U.S. Energy Information Administration (EIA).
As Administrator of EIA, Richard was responsible for collecting, analyzing, and disseminating independent and impartial energy information to promote sound policy-making, efficient markets, and public understanding of energy and its interaction with the economy and the environment. EIA provides a wide range of information and data products covering energy production, stocks, demand, imports, exports, and prices. Richard is responsible for the preparation of analyses and special reports on topics of current interest.
Richard is on leave from his position as the Gendell Associate Professor of Energy and Environmental Economics at Duke University's Nicholas School of the Environment. Previously he served as the Senior Economist for energy and environment on the President's Council of Economic Advisers. He also spent many years as a Senior Fellow at Resources for the Future (RFF), an independent, non-partisan environmental and resource economics research institution in Washington, DC. He has published widely on the economics of markets and policies for energy, the environment, and related technologies, particularly alternatives for reducing greenhouse gas emissions and achieving other energy and environmental goals.
Prior to his confirmation, Richard was a Research Associate of the National Bureau of Economic Research, a University Fellow of RFF, and on several boards including the Journal of Environmental Economics and Management, the journal Energy Economics, the Association of Environmental and Resource Economists, and the Automotive X-Prize. He has served on several National Academy of Science expert committees related to energy, environment, and innovation.
Richard holds a Ph.D. from Harvard University in environmental and resource economics. He also holds a M.P.A. from Princeton University's Woodrow Wilson School of Public and International Affairs, and a B.S. in materials engineering and a B.A. in philosophy from Rutgers University.