Alnur Ali didn't have a clue that the computer his finance-focused dad set up in the attic when Alnur was in elementary school would shape the course of his life. But after he got glued to playing games on the computer after school he began to think about making his own games and quickly progressed to learning coding, learning how to make websites, and even started his own small business designing websites for his neighbors.
From there, Alnur got serious, picking up more math and science courses in High School like introductory quantum mechanics and physics, and soaking up books like one by the Nobel prize-winning physicist Richard Feynman that a teacher loaned him.
Now Alnur is wrapping up his Ph.D. in Machine Learning at Carnegie Mellon University, and soon moving across the country out to Stanford to start a post-doc. He can drop buzz words in Artificial Intelligence (AI) with the best of them (because he is in the best of them), citing his research interests in "convex optimization, high-dimensional statistics, implicit regularization, and nonparametric regression." But Alnur says his path to academia was different than many others.
After High School he decided to major in computer science in college, and he also got interested in neuroscience along the way to study how the brain worked. He even studied physics during an undergraduate summer at the University of Cambridge and worked as a Research Assistant at the University of Washington's statistics department. But he was discouraged in what he saw as the slow pace of the progress of research on cognitive function, and "wasn't sure how to put it all together after I graduated," Alnur said.
He landed a job at Microsoft after graduation to work on Bing, their search engine, and from there was pushed into machine learning when Microsoft started having him work on their ranking and query rewriting systems. That's when he found his career niche. "I realized it was kind of perfect," Alnur said about his work when he realized it blended his interest in math, physics, science, and more. "It's about having computers do intelligent things."
He knew then that machine learning was where he wanted to focus. After beginning at Carnegie Mellon as a doctoral candidate in 2013, his advisor told him about the Department of Energy's Computational Science Graduate Fellowship and he was thrilled to be accepted to the program. 
The program backs students working on doctoral degrees in fields that use high-performance computing to solve complex science and engineering problems. Alnur got a yearly stipend (now the program offers $37,000 annually), his full tuition and fees covered during the fellowship, an academic allowance for research expenses, a set of required courses that broadened his horizon in computational learning, and a 12 week practicum experience at Lawrence Berkeley National Laboratory where methods he picked up have left a lasting imprint on his work approach.
The tools that we have are advanced enough, the data is there, there's a need there. There's a way to actually impact people's lives on a personal level in machine learning.
Alnur Ali
There's a lot that Alnur is interested in that machine learning can do, from theory to applied work. He's proud of the machine learning community's push to tackle societal problems with equity using machine learning techniques. Take for instance the Flint, Michigan water crisis that began in 2014. Machine learning, Alnur said, can create systems to aid in checking the entire city grid to ensure water is safe to drink, using clues about water readings from parts of the city and matching that with other known factors like the age of a fire hydrant or type of paint used on a home to create a map to cover the entire city. "The tools that we have are advanced enough, the data is there, there's a need there," Alnur said. "There's a way to actually impact people's lives on a personal level in machine learning."
Alnur wants to work on more problems that use machine learning for social good in his future, and make sure that the AI workforce of the future is diverse and inclusive. He points to organizations like WIML – Women in Machine Learning – as leaders to join in this space.
If you want to get into a career in AI or machine learning, Alnur has some advice for you. "Try to build something, get as hands on as you can," he says. "It's easy to break into the field – there's a lot of datasets that are floating around. Try to get your hands dirty and take on a problem. Maybe the first approach you try will work, maybe it won't ask yourself why and what you can do differently."
You don't need a college degree to work in AI, Alnur says, but it is a big asset. If you're thinking of what program to do, look at majors in Machine learning, data science, computer science, engineering, cognitive science, or Statistics, and take lots of math classes, Alnur suggests.
"Give statistics a chance," Alnur said. "There's so many cool things you can do with it."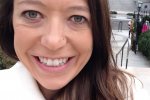 AnneMarie Horowitz
AnneMarie Horowitz has been with the Energy Department since 2009, and is the Director of STEM Rising, a priority Departmental initiative to highlight the science, technology, engineering, and mathematics (STEM) programs and resources of the agency.
more by this author