During the State of the Union address, President Obama laid out his vision for the year ahead -- calling it a year of action and highlighting how he will create opportunities to help American families succeed. Here at the Energy Department, we're working to achieve the President's goals by growing the clean energy economy -- helping families and businesses save money on their energy bills and supporting good-paying American jobs. Below are a few ways we are currently working toward the President's vision for a cleaner, more secure future.
Leading in Clean Energy Manufacturing
After shedding jobs for a decade, U.S. manufacturers have added 568,000 over the past four years, including 80,000 over the past five months. To ensure that American manufacturers remain competitive in the global marketplace, the Energy Department is working to increase the efficiency of the manufacturing sector and ensure that clean energy technologies continue to be produced here in the U.S. through our Clean Energy Manufacturing Initiative.
America also has the opportunity to be a leader in high-tech manufacturing thanks to the President's plan for a series of manufacturing innovation institutes that connect businesses, research universities and federal agencies to co-invest in key technology areas. Earlier this month, President Obama announced that North Carolina State University will lead the Energy Department's manufacturing innovation institute for the next generation of power electronics, which will focus on making wide bandgap semiconductor technologies cost-competitive with current silicon-based power electronics in the next five years. Watch our animated video to learn how wide bandgap semiconductors will lead to more affordable products for businesses and consumers, billions of dollars in energy savings and high-quality U.S. manufacturing jobs.
Doubling Our Renewable Energy Production
During President Obama's first term, the U.S. more than doubled the generation of electricity from wind, solar and geothermal sources. To ensure America's continued leadership in clean energy, the President has set a goal to double renewable electricity generation once again by 2020.
Here at the Energy Department, we're making strategic investments to drive down the costs of renewable energy production, keep manufacturing jobs in America and develop the next-generation of clean energy leaders. For example, the Department's SunShot Initiative is working to make solar energy cost-competitive with traditional energy sources by the end of the decade, and it is more than halfway there. The Loan Programs Office's four wind generation projects added 1 gigawatt of capacity to the grid, helping to make wind the fastest growing source of power in the U.S in 2012.
Driving Toward Cleaner, More Efficient Vehicles
Through new fuel economy standards and investments in alternative fuels, the Obama Administration has taken unprecedented steps to reduce our country's dependence on oil while saving families money at the pump. Whether it's supporting vehicle research or exploring innovative new ways to create renewable transportation fuels through ARPA-E, the Energy Department plays a vital role in developing the next generation of fuel-efficient vehicles. Most recently, Secretary Moniz announced nearly $50 million to support advanced vehicle technologies, including $30 million to lower the cost, increase the efficiency, and improve the convenience of plug-in electric vehicles.
As part of the Department's Clean Cities program, we are also working with communities to deploy alternative fuel vehicles across the country, develop the fueling infrastructure necessary to power them and help large companies integrate alternative fuels and fuel economy improvements in their fleets. Since the program was started in 1993, Clean Cities has saved 5.4 billion gallons of petroleum.
Saving Businesses and Consumers Energy and Money
The cleanest and cheapest energy is the energy that you don't have to produce at all. Investing in energy efficiency reduces the carbon produced, cuts the demand on infrastructure, and saves consumers and businesses money. President Obama has made clear that efficiency is an important part of his Climate Action Plan, and last night he highlighted it again.
Under the Obama Administration, the Energy Department has finalized new efficiency standards for more than 30 household and commercial products, which are estimated to save consumers more than $400 billion and cut greenhouse gas emissions by 1.8 billion metric tons through 2030. Once the proposals issued in 2013 are finalized, those standards could lead to tens of billions of dollars in additional energy bill savings.
Through the Better Buildings Challenge, we are also helping drive greater energy efficiency in our businesses, educational institutions, and state and local buildings. Since the Challenge was launched in 2011, more than 170 organizations have committed to reduce their portfolio-wide energy use by 20 percent by 2020, and in December, it was expanded to include multifamily housing units, such as apartments and condominiums.
For more on energy in the State of the Union, watch highlights from the President's remarks.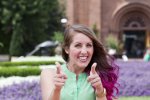 Rebecca Matulka
Served as a digital communications specialist for the Energy Department.Served as a digital communications specialist for the Energy Department.
more by this author