In Tuesday's State of the Union address, President Obama was clear about climate change: "The debate is settled. Climate change is a fact."
As part of the President's Climate Action Plan, the Energy Department is taking a variety of actions to reduce carbon pollution, diversify America's portfolio of energy sources and secure our energy supplies and infrastructure. Learn more about some of these actions below -- and watch the video above for a recap of climate change moments from President Obama's speech.
Making our energy infrastructure more resilient to climate change
"A changing climate is already harming western communities struggling with drought and coastal cities dealing with floods." With climate change comes severe weather, drought and higher-than-normal temperatures. The Energy Department is looking closely at key energy sources and infrastructure across the country -- from natural gas pipelines to transmission towers to nuclear reactors -- to identify vulnerabilities and devise solutions. View a map of energy-related climate change impacts near you.
Developing all sources of American energy
"The all-of-the-above energy strategy I announced a few years ago is working, and today, America is closer to energy independence than we've been in decades. One of the reasons why is natural gas. If extracted safely, it's the bridge fuel that can power our economy with less of the carbon pollution that causes climate change." During a 2013 town hall meeting with Energy Department employees, Secretary Moniz discussed how a natural gas boom might be a boon for renewable energy, as well. Meanwhile, the Department supports innovation and responsible deployment of a wide variety of energy sources, including fossil, renewable and nuclear energy.
Supporting the next wave of advanced fossil energy technologies
"Over the past eight years, the U.S. has reduced our total carbon pollution more than any other nation on earth. But we have to act with more urgency." As a leading sponsor of research, the Energy Department invests in emerging low-carbon technologies, including some that are being studied at the 17 National Labs. Last summer, Secretary Moniz spoke about the future of fossil energy in remarks at the National Energy Technology Laboratory. And the Department recently announced that $8 billion in new loan guarantees are planned for advanced fossil energy projects and facilities that substantially reduce carbon pollution and increase efficiency.
Helping get more renewable energy on the grid
"It's not just oil and natural gas production that's booming; we're becoming a global leader in solar, too. Every four minutes, another American home or business goes solar; every panel pounded into place by a worker whose job cannot be outsourced." As the President said, solar is truly all around us -- even powering a fourth grade classroom in North Carolina. The Energy Department supports renewable energy development in many ways -- including loan guarantees for game-changing utility-scale solar projects; initiatives like the Rooftop Solar Challenge, which empower communities to reduce installation soft costs; and programs to get women and underrepresented groups involved in STEM education, seeding the next generation of clean energy innovators.
As President Obama described, 2014 is a year of action on important issues that affect America's middle class families -- including energy and climate change. In the months to come, stay tuned for more updates on how the Energy Department is supporting the President's plan to reduce carbon pollution and leave a brighter legacy for future generations.
"When our children's children look us in the eye and ask if we did all we could to leave them a safer, more stable world, with new sources of energy, I want us to be able to say yes, we did." --President Obama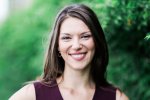 Marissa Newhall
Marissa Newhall served as Director of Digital Strategy and Communications at the U.S. Department of Energy from August 2013 to January 2017.Marissa Newhall served as Director of Digital Strategy and Communications at the U.S. Department of Energy from August 2013 to January 2017.
more by this author