You are here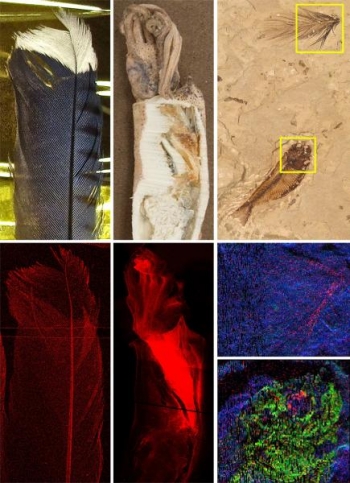 A collage of images. Top, optical images of: blue jay feather, squid, and fossil fish with feather. Bottom: x-ray images showing the distribution of copper (red) in the same organisms. | Photo Courtesy of Gregory Stewart, SLAC National Accelerator Laboratory
One-hundred million years ago, what did birds look like?
Today, scientists from the Energy Department's
SLAC National Accelerator Laboratory
and the University of Manchester
announced
that they've taken a huge step towards finding the answer, leaving the creative imaginations behind such classics as
Jurassic Park
,
The Land Before Time
and
Dinotopic
to contend with science.
Through x-ray fluorescent imaging techniques developed at the lab's
Stanford Synchrotron Radiation Lightsource
(SSRL), scientists were able to identify the chemical traces of pigment that once colored the plumage of these fossilized birds. For some background, SSRL x-rays are generated by electrons circulating in a storage ring at nearly the speed of light (aka synchrotron radiation) and has contributed to advances in clean energy research and development, drug discovery and understanding DNA transcription.
But back to the birds -- these scientists examined Confuciusornis sanctus, which lived 120 million years ago and as an evolutionary link between dinosaurs and birds is considered the first beaked bird; and Gansus yemenensis, which lived 100 million years ago and is considered the oldest modern bird.
SLAC physicist Uwe Bergmann (
Read our 10 Questions with Bergmann
) first used a technique he developed that quickly and efficiently images whole fossils rather than tiny fragments, revealing pigment patterns across the whole
Confuciusornis sanctus
specimen. In and around the tissues, bone and surrounding rock of the fossil, Dr. Bergmann's technique and x-ray imaging displayed pigmentation patterns in eerie detail. Traces of copper were especially apparent -- glowing in the imprints of feathers.
Then, Sam Webb, another SSRL scientist, took a closer look at Gansus yemenensis. His x-ray analysis revealed that the copper in the fossil took the same form as cooper trapped by eumelanin pigment (one of the coloring agents responsible for brown eyes and dark hair in many modern species, including humans.)
This discovery opens doors to understanding the biochemistry, habits and surroundings of ancient creatures.
University of Manchester paleontologist Phil Manning noted, "The fossils we excavate have vast potential to unlock many secrets about the original organism's life, death and subsequent events impacting its preservation. In doing this, we unlock much more than just paleontological information. We now have a chemical roadmap to track similar pigments in all life."