You are here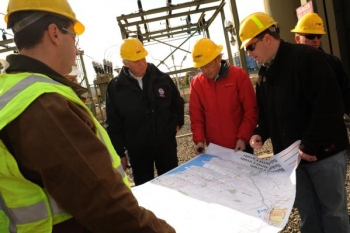 Supervising Engineer for Public Service Electric and Gas Company, Michael Vincent, right, Department of Energy Secretary Steven Chu, center, and FEMA Deputy Administrator Rich Serino review power restoration at the Hoboken electrical substation. Restoration of power to communities impacted by Hurricane Sandy remains a high priority. | Photo by Jocelyn Augustino/FEMA.
In times of hardship, Americans come together. We recover and rebuild as a nation because we reach out to help our neighbors, our communities and our fellow Americans. Hurricane Sandy hasn't been any different.
Over the past few days, I've had the chance to meet some of the brave people at the front lines of the recovery effort, our utility crews. Today, I spoke with a work crew from Public Service Enterprise Group (PSE&G), the utility that serves three quarters of New Jersey. Among this crew were about 10 substation maintenance crew members from Dayton Power and Light (DP&L) of Ohio. That crew from Ohio, which they said accounted for about half of their substation maintenance work force, told me that work crews from around the country came to help Dayton recover from Hurricane Ike, and they were here in New Jersey to return the favor. This is the type of spirit that makes this country great.
Since the storm struck, more than 60,000 linemen and utility staff have poured into the affected areas. They are putting in long days and sleepless nights to make sure power comes back on as soon as possible. This isn't easy work, crews have to fix power lines hit by hurricane-force winds and repair flooded electrical infrastructure. The men and women on these utility crews are coming from as far away as California because they understand how important power is. They've left their families and the comfort of their homes to help communities recover from a devastating disaster.  They know that repairing downed electrical lines and restarting substations means families can cook a hot meal, charge their phones, and keep crucial medicines refrigerated. They're working hard to help those impacted by the storm get their lives back to normal as soon as possible. We are grateful for their tireless efforts.
We've taken extraordinary steps to get as many crews as possible into the area and to make sure that any resources available are brought to bear in supporting this critical work. For example, the Department of Defense activated our military to airlift utility trucks, crews and equipment from California, Arizona and Washington. We're working with the Defense Logistics Agency to make sure utility trucks have access to equipment and fuel to keep the restoration moving. And we'll keep doing all we can to support their efforts to fully restore power.
The good news is these crews are making significant progress. As of Monday morning, electricity has now been restored to more than 7.1 million homes and businesses, from the 8.5 million customers who lost power during the storm. With each passing day, the lives of people without power or transportation fuel get worse and we still need at least several thousand additional line crews to restore power to the remaining people.
Our work is not done, and weather forecasts suggest this hard-hit area may be facing a winter storm later this week. We need to make sure that utilities from around the country continue to come to the Northeast to help restore power, and those utilities that have crews currently here should keep them here until that storm passes. 
I have been talking directly with the leadership of America's utilities to thank them for their continuing commitment to send help, because a great deal more work remains to be done in the two states that took the worst hits from Hurricane Sandy, and may soon take another blow. We cannot let up until the restoration of power is fully complete and families who have been devastated by this storm are back on their feet. Because there is still much work to do, we are asking again for every utility to send any additional crews they have available. 
As President Obama said in his Weekly Address, "We have been humbled by nature's destructive power. But we've been inspired as well." The entire Department of Energy sends a sincere thank you to the thousands of utility crews who are working tirelessly across the affected states. The work they are doing is in the long tradition of Americans stepping forward to help their fellow citizens. Together, we will recover, rebuild, and come back once again.