You are here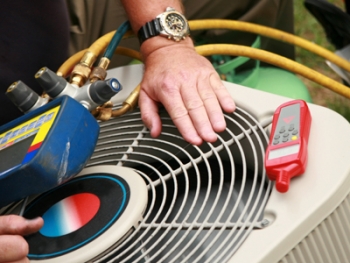 Ho-Chunk Nation is conducting audits throughout Wisconsin to find energy wasters such as decrepit HVAC units. | File photo
Drive through Wisconsin, and you're bound to catch a glimpse of one of the myriad energy efficiency and renewable energy projects going on at the Ho-Chunk Nation.
The tribal nation has land scattered throughout the state and many green projects sprinkled among it, like the solar panels at the tribal office building in Black River Falls and the energy-efficient homes being built in Winnebago Heights.
Their latest project is helping the tribe pinpoint the weak spots at 30 of its buildings around the state: poor insulation at tribal offices, decrepit HVAC units in schools and leaky windows at elderly centers.
"The problems run the whole gamut with the older buildings," says Luke Georgeson, the grant administrator who oversaw the audits. "They are just energy wasters."
Ho Chunk received a $392,200 Energy Efficiency and Conservation Block Grant, under the Recovery Act, to perform energy audits, which are wrapping up this week, as well as for strategy preparation, administration costs and some retrofits.
Georgeson estimates the nation could save up to 30 percent on utility bills when the problems areas are addressed. That number could be even higher if the tribe decides to put solar or geothermal systems at the some of the buildings, something the nation is considering, Georgeson says.
The nation hired a contractor — Green Bay's Top to Bottom Inspections, LLC — to perform all the energy audits. Crews up to eight people have spent the last two months working their way around the state, performing the audits on all Ho Chunk-owned, non-gaming buildings.
The tribe has a presence in Black River Falls, Tomah, Wittenberg and Wisconsin Dells, cities located in all parts of the state.
Top to Bottom will submit a conservation audit report to the tribe and the Department of Energy, indentifying all areas in need of energy improvements. Most of the buildings are more than 20 years old and require repairs.
"The tribe already has the mentality of trying to be greener in general," says Georgeson, "The grant allowed us the opportunity to do quite a bit more. It allowed us to dig really deep into the energy audits."
"I think it will drastically benefit the tribe in the long run," he adds.