You are here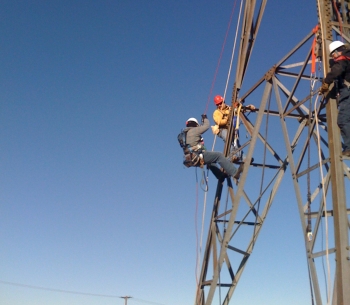 Gemini's Wind Turbine Tower Rescue courses provide wind technicians with training in safety at height, emergency escape systems and rescue. This course is designed to prepare wind technicians with the knowledge and emergency procedures specific to wind turbines. | Photo by Claudia Trevizo.
As part of the President's all-of-the-above strategy to solve America's energy challenges and to enhance American competitiveness in the world, the Energy Department is taking steps to leverage the skill sets of our military veterans in support of the wind energy industry.
With the launch of Gemini Energy Service's workforce development training program -- military veterans have the opportunity to transfer their skills from the armed forces into careers as wind technicians. In July 2010, Gemini received a Workforce Development grant from the Energy Department to create the program.
Gemini's training not only provides value to both turbine technicians and wind industry manufacturers, it is also creating jobs. Since the start of the training program, Gemini has expanded its workforce significantly -- from just 23 technicians to 104 technicians.
"The training I received as part of the Workforce Development program with Gemini was extremely beneficial to building my experience in my wind career…and because of my background in the Air Force, I was able to pick up the concepts presented by the trainer quickly and utilize those on their project sites as well as in other areas of my daily work," said David Holland, senior Gemini technician and military veteran. "The safety practices as well as the technical skills I learned have helped to enhance my overall performance on various jobsites, keeping myself and my coworkers safe and allowing the tasks to be performed in a timely manner."
As the United States makes major investments in clean, renewable energy -- nearly doubling generation from wind, solar, and geothermal sources since 2008 -- the need for a well-trained, well-equipped workforce is critical. With the Department's grant, Gemini has remained focused on training former military as they transition to the wind energy industry.
"As the industry expands, we see a need for skilled technicians to support the increasingly complex wind turbines that are erected throughout the nation," said Senior Director of Gemini, James Haley.  "At the conclusion of the DOE project, Gemini will continue to hire and train former military veterans because of their technical backgrounds and the project success the wind industry has seen from their hard work."
For more on wind energy education and training programs, check out our Wind Powering America education page.