You are here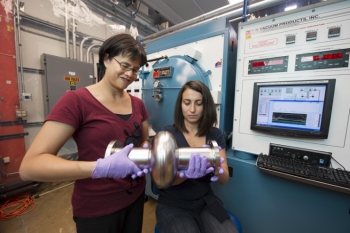 Our Women @ Energy series is one way we're spreading the word about women leaders, including Mayling Wong-Squires (left), a Mechanical Engineer at the Energy Department's Fermi National Accelerator Laboratory. | Photo courtesy of Fermi National Accelerator Laboratory.
As the country celebrates Women's Equality Day, I am reminded of the gains that women enjoy today that took an incredible effort to secure. Lilly Ledbetter knew it wouldn't be easy when she brought a lawsuit against Goodyear Tires after 19 years of pay inequality -- but she sought justice. Ultimately her courage changed a nation when President Obama made his first bill signed into law the Lilly Ledbetter Fair Pay Act.
Equality is still a rallying cry in our work. As the President has said in his Women's Equality Day proclamation, we have a serious issue on our hands with the gap between women and men in working in Science, Technology, Engineering and Mathematics (STEM) careers. With 75 percent of the STEM workforce being male, we're missing the talents of the women in this country to tackle climate change, energy security, economic development, innovation and nuclear security. We're not capturing the rising education levels of our nation as we watch more women than men go to college, excel academically and enter the labor pool.
As the Department of Energy's representative to the White House Council on Women and Girls, I sound this alarm daily, pushing our programs to recruit the best and brightest from both genders and getting STEM mentors out to young women across the country. Through the STEM Speakers Bureau, I speak with girls about the benefits of STEM careers -- including higher paying jobs, travel opportunities, endless career moves, the ability to solve exciting problems -- and how to find mentors who can get them comfortable with their abilities.
We're also spreading the word through our ongoing series, Women @ Energy, which highlights more than 100 women in STEM at the Department's National Laboratories and headquarters, and our STEM Mentoring Program, which coordinates in-person mentoring with professionals at our Washington, D.C., offices.
We look forward to continuing our work on equalizing participation in the energy sector, and working with educators, students, community leaders, and industry businesses to collaborate on measures to engage more women and girls in the nation's all-of-the-above energy strategy. Join our efforts and learn more by visiting our Council on Women and Girls page.