You are here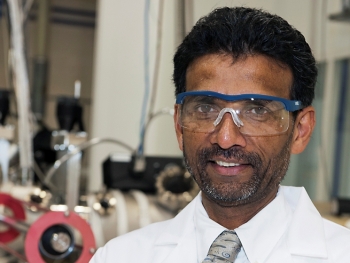 Dr. Siva Sivananthan at the Sivananthan Laboratories in Bolingbrook, Illinois. | Photo courtesy of Megan Strand, UIC
Recently recognized by the White House, one awardee of the Energy Department's SunShot Initiative epitomizes the immigrant spirit that makes our country a more prosperous and innovative nation.
Dr. Sivananthan was one of 11 individuals designated as an Immigrant Innovator "Champions of Change." These honorees represent the best and brightest entrepreneurs from around the world who are working to create American jobs, grow our economy and make our nation more competitive.
A professor of physics at the University of Illinois at Chicago (UIC), Dr. Sivananthan is also the founder of the high-tech Sivananthan Laboratories and recipient of two awards under the Energy Department's SunShot Initiative.
Born in Chavakacheri, Sri Lanka, Dr. Sivananthan came to the United States in 1982 as a master's candidate at UIC. He went on to earn his Ph.D. in physics from the university. His dedicated research allowed him to pioneer an approach for growing cadmium telluride (CdTe) – a high-performance semiconductor that is incredibly efficient at turning sunlight into electricity -- in a single crystal form.
Dr. Sivananthan founded EPIR Technologies 15 years after coming to America. The company's work with mercury cadmium telluride -- a key semiconductor -- is at the heart of U.S. night-vision military technology. This same technology serves as the platform for groundbreaking, high-performance cells. Dr. Sivananthan worked with the Energy Department under a 2009 SunShot Incubator award to develop this technology and is currently supporting research under a SunShot BRIDGE award to better understand how defects in crystal structures impact cadmium telluride solar cell efficiency.
Today, the small business that Dr. Sivananthan founded employs more than 60 people. In addition to his work at UIC, Dr. Sivananthan helped found the non-profit Institute for Solar Photovoltaic Innovation, Research, and Edu-training (InSPIRE), which helps drive undergraduate and high school students to create a renewable energy and solar ecosystem in Illinois. 
Dr. Sivananthan's acceptance speech at the May 29 Champions of Change ceremony was remarkably humble given his incredible impact.  "I owe my life to this country," he said. "Really what makes an impact on every immigrant is the time people took to train me and really push me to the limit. Every step of the way, they were there."