You are here
Last week, this blog highlighted the highly efficient vehicles competing for the Automotive X Prize. The innovative designs on display in that competition may very well reflect the future of the auto industry, but there are many alternative vehicles already on the road, actively doing their part to cut emissions and improve efficiency.
By decreasing the amount of petroleum we use for transportation and running our vehicles on alternative fuels, we can improve our country's social, economic, and environmental sustainability. However, those of us that drive alternative vehicles know that finding a place to fuel up can sometimes be tricky. That's why the Department of Energy Clean Cities Program developed the Alternative Fuel Station Locator to help drivers find all kinds of alternative fuels – B20 (biodiesel) pumps, E85 (85% ethanol) pumps, electric chargers, natural gas filling stations, propane stations – even places that dispense hydrogen! So far, the Station Locator includes more than 6,000 separate stations and is constantly being updated with new ones.
To use the Alternative Fuel Station Locator, travelers with alternative fuel vehicles just enter their address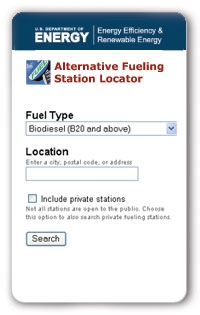 and pick their fuel. The Station Locator – plots the closest stations, and provides each station's address, phone number, distance from your location and information on whether the station is open to the public or not. If you are planning a trip in an alternative fuel vehicle, you can even map stations along your route. You can also view station payment options or see overview maps.
The Station Locator is also available in a mobile version so you can find fuel stations even when you're not by a computer. Compatible with your choice of handheld device, the Mobile Alternative Fuel Station Locator shows you the five stations closest to your location so no matter where you are going you'll be able to find the fuel that you need.
For more information on the Station Locator, as well as number of other mobile and web tools that deal with alternative fuels, visit our Alternative Fuel and Advanced Technology Vehicle Data Center's Tools page.
Dennis A. Smith is the National Director of Clean Cities in the Vehicle Technologies Program, Office of Energy Efficiency and Renewable Energy at the Department of Energy