You are here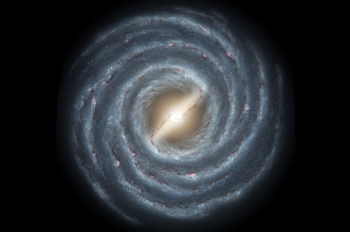 This is a graphic representation of the Milky Way, the galaxy in which Earth is contained. Scientists know of more than 20 visible satellite galaxies that circle the center of the Milky Way, with masses ranging from one million to one billion solar masses. Occasionally, one of these orbiting galaxies pass through the Milky Way making waves for millennia. | Graphic courtesy of NASA
What exactly happens when galaxies collide? It depends on their relative sizes to one another. 
Our galaxy, the Milky Way, is a (very) large spiral galaxy surrounded by dozens of smaller galaxies that orbit it like the moon orbits the Earth. There are also massive (literally, as relating to mass) invisible dark matter halos orbiting out there. 
Scientists have long theorized that occasionally these satellites will pass through the disk of the Milky Way and make some serious waves. Recently, a team of astronomers found evidence that the Milky Way actually had such an encounter as recently as 100 million years ago – a close call in cosmological terms. 
When a stone hits the surface of a pond, it makes ripples. When a hammer strikes the side of a bell, waves vibrate the metal, which makes the sound. When a smaller galaxy blasts into a much larger galaxy, it literally makes waves for millennia.
The team of international collaborators, including researchers from the Fermi National Accelerator Laboratory, observed in the data from the Sloan Digital Sky Survey, the most extensive sky map to date, the positions and motions of our nearby stars weren't quite as regular as previously thought. They also noticed the north and south sides of the Milky Way had a small, but statistically relevant, difference in the number of stars they contain. That really got them thinking.
The team used statistical computer simulations using Sky Survey data to determine if, perhaps, a satellite galaxy or dark matter structure passed through the disk of the Milky Way. 
The result: "Our part of the Milky Way is ringing like a bell," said Fermilab's Brian Yanny, which indicates an impact of sorts. Though the question still stands: What celestial object might have impacted our galaxy?
The Milky Way is more than 9 billion years old with about 100 billion stars and total mass more than 300 billion times that of the sun. Scientists know of more than 20 visible satellite galaxies that circle the center of the Milky Way, with masses ranging from one million to one billion solar masses, but they don't know which celestial object actually passed through the Milky Way.  
It could have been one of the small satellite galaxies that move around the center of our galaxy, or one of the invisible dark matter halos. With six times as much dark matter in the universe as ordinary, visible matter, these dark matter satellites are more likely than the visible satellite galaxies to cut through the Milky Way.  
Such future space explorations, such as EESA's Gaia Mission, will be able to map out our galaxy in unprecedented detail offering a strong test in their findings. Until then our little corner of the galaxy will be "ringing like a bell." Researchers think the ripples will subside in about 100 million years – unless we get hit again.