You are here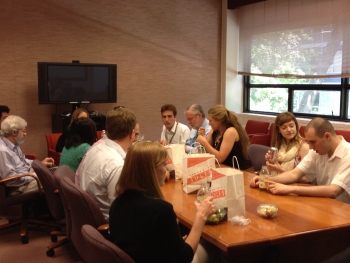 Dr. Peter Lyons, Assistant Secretary for Nuclear Energy met with students at MIT during an informal roundtable to talk what's next for nuclear energy and for the nuclear power industry. | Photo courtesy of Jake Dewitt.
Investing in the next generation isn't just about technology -- it's about people too.
In that spirit, students at Massachusetts Institute of Technology (MIT) gathered Friday to have a casual discussion with the U.S. government's foremost expert on nuclear energy. 
Dr. Peter Lyons, Assistant Secretary for Nuclear Energy at the Department, spoke with MIT students and faculty at an informal roundtable on the Cambridge campus. 
"It was wonderful to talk with the students today about the issues that matter most to them and to hear their enthusiasm for nuclear power as a clean energy source," Lyons said.
Fourth year PhD student Jacob DeWitte said the event offered him a chance to learn more about what's going on at the Energy Department and explained why he was drawn to studying nuclear energy: "Nuclear has always fascinated me from a physics and energy density perspective.  Coupling that academic interest to the real world potential of nuclear to provide clean, reliable, affordable, and extremely safe energy is very exciting and engaging," he said.  
The group had a lot to talk about because MIT has a robust nuclear engineering program, offering courses since 1935 and providing opportunities for students to experiment with nuclear power at an in-house research reactor.
The Department has also invested in the program, giving more than $13 million in four years to support students in their quest to solve the challenges in the nuclear industry. 
But the collaboration doesn't end there. 
MIT is also working with the Department on nuclear research using supercomputers. 
The prestigious school is a key partner at the Modeling and Simulation for Nuclear Reactors Hub, where researchers are using virtual reality to model and simulate nuclear reactors in an advanced research facility. 
The work is being done by an interdisciplinary force of scientists and engineers from other universities, government and industry with a common goal: to make the next generation of reactors safer and more cost effective. 
MIT has contributed to the Hub's work specifically in the areas of material performance and computational thermal hydraulics.