You are here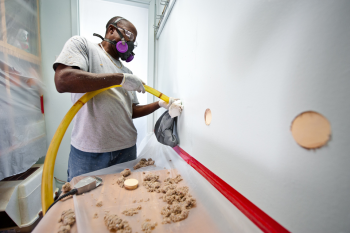 William Stewart, with Veterans Green Jobs, blows cellulose insulation in the interior walls of a Lakewood, Colorado, home. This home is part of the Energy Department's Weatherization Assistance Program that supports energy efficiency upgrades to low-income homes in Denver. | Photo courtesy of Dennis Schroeder, NREL.
This Wednesday, communities throughout the nation will celebrate National Weatherization Day, which recognizes an industry of weatherization service providers, state and local agencies, and researchers dedicated to improving the energy efficiency of homes throughout the nation. It is also a day to recognize the many families in need who are now benefitting from lower energy bills.
Through the Weatherization Assistance Program, the Energy Department provides funding to states, territories, and tribal governments to improve the energy efficiency of the homes of low-income families. These governments fund a network of local community action agencies and nonprofit organizations that provide weatherization services for those in need using leading technologies and testing protocols. In addition, the Weatherization Assistance Program supports the development of innovative, new installation methods and professional development tools, such as high-quality, technical certifications for weatherization professionals. The recently released Standard Work Specifications, which describe key elements of quality upgrades, are a great example of a recent innovation.
Since the Weatherization Assistance Program's inception in 1976, more than 7 million homes have received energy efficiency improvements, such as heating and cooling upgrades, the addition of insulation, weatherstripping to doors and windows, and much more. In an effort to stimulate job growth and help families affected by the economic recession, the Weatherization Assistance Program received an unprecedented $5 billion in funding from the American Recovery and Reinvestment Act of 2009, contributing to the weatherization of more than 1 million homes in three and a half years and the training and employment of countless weatherization professionals during that period. These households are now seeing $250-$480 annually in energy savings.
In the spirit of National Weatherization Day and the beginning of our own Weatherization Week, here are a few basic energy-saving tips:
Add insulation to reduce energy demand: Properly installed insulation reduces heating and cooling costs by cutting heat losses and gains through a home's building envelope. Learn more about adding insulation to an existing home.
Seal your home with caulking or weatherstripping: Air sealing is one of the most cost-effective ways to lower your energy bill while improving your home's comfort. Caulking and weatherstripping are two air-sealing techniques that provide a quick return on investment. Learn more about air sealing your home.
Install and set a programmable thermostat: You can save as much as 1 percent on your heating bill for every degree you set your thermostat back over an eight-hour period. Resetting your thermostat while you are asleep or away from home can help you save big without sacrificing comfort. Learn more about thermostats.
For more ways to save energy and money at home, visit EnergySaver.gov. Also, check out EERE's blog and Facebook page throughout the week for more stories on how weatherization is transforming our economy and improving the lives of Americans.