You are here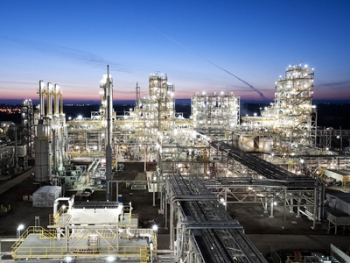 REC Silicon received a $154 million 48C tax credit for a $1.7 billion expansion of its Moses Lake, WA, plant. | Photo courtesy of REC Silicon |
In most industries, if it's expensive to make, it's probably expensive to buy. This is particularly evident in the solar world. Refining the raw material used in photovoltaic panels, silicon, is not a cheap endeavor, and has kept the price of panels more expensive than other energy sources.
But REC Silicon, one of the largest producers of the raw material, found a method that does it at a lower cost and uses up to 90 percent less energy, making way for a more affordable final product.
Its Fluid Bed Reactor technology is now up and running at the company's newly-expanded Moses Lake, Wash., plant, a $1.7 billion investment that not only improved efficiency and doubled its capacity, but also increased its workforce.
The new additions were supported in part by a 48C Advance Energy Manufacturing Tax Credit worth $154 million—the highest amount awarded to a recipient under the Recovery Act.
More product, less the cost
Because of these additions, REC will double its capacity, producing 13,000 metric tons of polysilicon annually. But it's not just about increased capacity, says Anne Ekern, director of communications for REC Silicon.
For the last six years, the company has invested significant money and time in developing the Fluid Bed Reactor technology to create an easier and more efficient silicone purification method.
The idea was to significantly lower energy use and the production cost of polysilicon, Ekern says.
"This ground-breaking technology demonstrates the advantages of scaled-up designs and more energy-efficient production, making solar energy a more affordable alternative," Ekern says. "Moreover, making step changes in lowering the production cost of polysilicon is a strategic goal for REC Silicon, making solar energy one of the top, if not the best, alternative energy solutions for the future."
Beyond solar
The polysilicon plant has been a staple in the small town of about 18,000 for the last 25 years, employing hundreds of people at its Silicon I facilities, where silane gas and polysilicon materials for the solar industry are manufactured. REC Silicon also has almost 300 people employed at its polysilicon plant – Silicon II - in Butte, Mont. >
This latest project, Silicon III and IV, where the new technology is housed, resulted in a peak of 1,875 contract construction jobs in Moses Lake, according to the company.
What's more, the company over the last five years has doubled its number of full-time, permanent employees to over 500, with the help of this expansion.
"We're the largest employer in Moses Lake," says Ekern. "You can imagine what bringing in over 1,800 contractors can do [for local businesses]."
"There a lot of families here that are connected to REC in some way," she adds. "And we're still hiring."
Rock and ribbon
The day after REC hosted a free concert with the 80s band Styx in October as a "thank you" to the Moses Lake residents for supporting the company's expansion, it held an official ribbon cutting with a number of dignitaries, including Senator Maria Cantwell.
"REC's recent expansion in operations has brought hundreds of permanent, high-paying jobs to Central Washington and lays a foundation for future economic prosperity," Cantwell said. "The job-creation doesn't stop at REC Silicon's gates. Every REC employee supports almost three other Washington state jobs."