You are here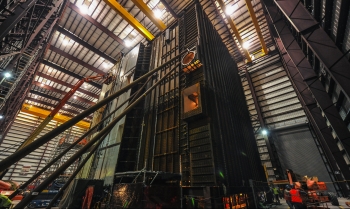 Construction work inside the Vogtle 3 and 4 module assembly building. | Photo courtesy of Georgia Power Company.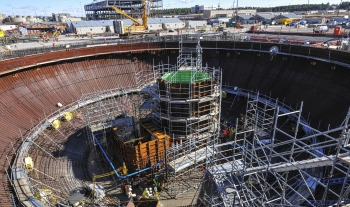 A look inside the Vogtle Unite 3 containment vessel bottom head. | Photo courtesy of Georgia Power Company.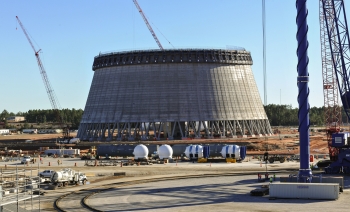 The Vogtle Unit 3 cooling tower. | Photo courtesy of Georgia Power Company.
Today, I'm traveling down to Georgia with Secretary Moniz to announce $6.5 billion in loan guarantees to support the first new nuclear power plant to begin construction in nearly three decades. The project at the Alvin W. Vogtle Electric Generating Plant is constructing two new state-of-the art nuclear reactors that will produce enough clean electricity to power more than 1.5 million homes. At the same time, this project will help fight climate change by keeping about 10 million tons of carbon dioxide pollution out of our atmosphere. That's like taking 2 million cars off the road.
The Vogtle project is using the next generation of nuclear reactors that incorporate a number of new safety features, including what's called passive safety systems that are able to respond in an emergency without any human intervention or electrical power. Vogtle was the first power plant in the U.S. to use this technology.
Today's announcement is not only a major milestone for America's nuclear industry, it's also a symbol of the renewed energy of the Department of Energy's Loan Programs Office (LPO). Right now, our projects produce enough clean energy to power a city the size of Dallas, Texas. In just the last couple of months, a number of our projects have come online, including the world's largest solar thermal energy plant, a major transmission line supporting renewable energy and a large new solar panel project.
We are fulfilling our mission as America's clean energy bank with a portfolio of more than $32 billion covering about 30 projects around the country -- including one of the world's largest wind farms, more than a dozen new or retooled auto manufacturing plants and several of the world's largest solar generation and thermal energy storage systems.
And, with more than $40 billion in remaining loan authority -- including up to $8 billion in new loan guarantees for advanced fossil energy projects that reduce, avoid or sequester greenhouse gases -- LPO is poised to play a significant role in keeping America at the forefront of the global clean energy technology race.