You are here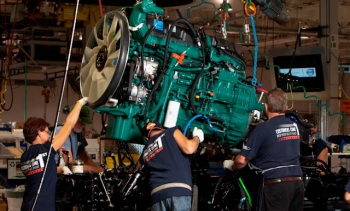 Workers at Volvo Trucks' New River Valley plant guide an engine into place. | Courtesy of Volvo Trucks
Volvo Trucks' New River Valley (NRV) plant, located in Dublin, Virginia, is the company's largest truck manufacturing facility in the world—and the plant's senior management aims to keep it that way. By embracing energy efficiency as a critical part of its business strategy, the company is realizing huge energy savings as it continues to expand and create local jobs.
Patrick Collignon, plant manager at the NRV facility, understood that the plant's energy use was intricately tied to its competitiveness and overall success. He saw the pursuit of greater energy efficiency as a critical component in the plant's strategy to stay healthy and grow during tough economic times. In December 2009, the company joined the Department of Energy's Save Energy Now LEADER initiative, which calls on manufacturers to reduce their facilities' energy intensity by 25% over a 10-year timeframe. Since becoming a LEADER Company, Volvo's NRV plant began tapping into the technical expertise of the Department's Industrial Technologies Program, as well as its own resourcefulness, to supercharge its energy efficiency efforts. As a result, not only did Volvo rise to its LEADER challenge, it far surpassed it—implementing a range of measures that helped to reduce energy intensity by almost 30% in just one year.
The investments Volvo made in energy efficiency have now paid impressive dividends in terms of the company's cost savings, jobs impact, competitiveness, and environmental footprint. Embracing common-sense, but often overlooked energy efficiency measures helped Volvo cut costs and keep operations—and jobs—for its truck manufacturing business here in the United States. Every Volvo truck sold in the U.S. is built by United Auto Workers -represented workers at the NRV plant. Volvo is now the largest employer in southwestern Virginia with 2,200 employees at its NRV plant. As such, its determination to keep operations — along with the paychecks from those operations — in the United States has helped to bolster the local economy.
Volvo harnessed both a top-down and a bottom-up approach in its efforts to strengthen the company's competitive position through energy efficiency, instilling a true culture change in the company. To kick-start its effort, the NRV plant established an energy committee tasked with identifying and implementing projects that would reduce the plant's energy use. The NRV plant also initiated a contest to promote employee engagement in identifying and suggesting ways for the facility to improve its energy efficiency. From late 2009 to early 2010, the implementation of employee-suggested projects saved the NRV plant more than 546,543 kilowatt hours per month, which translates to approximately $33,000 in monthly cost savings.
All told, the energy efficiency projects that Volvo undertook at its NRV plant in 2010 have helped the company realize cost savings of approximately $2 million. With an initial investment of just $850,000, this translates into an impressive payback period of just four to six months. Volvo's energy team has since identified a number of additional opportunities for improvement and expects a further 10–20% percent reduction in energy intensity this year.
Volvo now plans to bring its successful blend of energy, cost, and job-saving measures to its other U.S. operations as well.
For more information on the Save Energy Now LEADER Initiative, visit the Industrial Technologies Program website.