You are here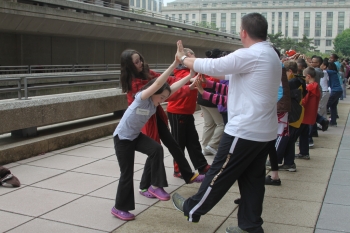 In addition to hosting the vehicles education exhibit at the White House, Energy Department employees participated in many activities as part of Take Our Daughters and Sons to Work Day - like the fitness presentation shown above. | Energy Department file photo.
My colleagues and I were excited to represent the Energy Department at the White House's Take Our Daughters and Sons to Work Day on April 26. We talked to roughly 200 kids about the Energy Department's research on vehicles and domestic, renewable fuels.  
At the event, we demonstrated the first step in the process of making biodiesel, an efficient biofuel that can be made from new or used vegetable oil, animal fat, or recycled restaurant grease.  Biodiesel burns cleaner than petroleum-based diesel and is generally made of materials grown or created in the U.S. While all diesel vehicles can run on a five percent biodiesel blend, many can run on fuel blends as high as 20 percent. 
As a volunteer from the audience crushed dried soybeans, we talked about how extracting soybean oil is the first step in making soy biodiesel. After mixing the crushed soybeans with hot water and giving the jar a couple of good shakes, oil seeped slowly from the beans, completing the first step in the process.
The threat of rain forced us inside from the planned event on the White House lawn to the Eisenhower Executive Office Building, limiting our options.  Although we weren't able to bring the cart inside, the biodiesel demonstration is just one part of a hands-on vehicle education cart we use to make the Department's research come alive at public events. A stainless steel laboratory on wheels, the cart's drawers contain simple machines such as gears that illustrate basic scientific principles as well as high-tech vehicle components. 
Helping students gain hands-on experience with science and technology is fundamental to building the next generation of innovative engineers and researchers. While most of our vehicle educational efforts, like our advanced vehicles competitions, focus on university students, it's important to get kids interested early so that they want to pursue these areas in the future.
Talking to young people about clean, renewable energy sources and hearing their own visions for the future was inspiring. It's exciting to think about the choices that will be available to them when they begin buying cars and how they themselves will contribute to the development of even more options going forward.