You are here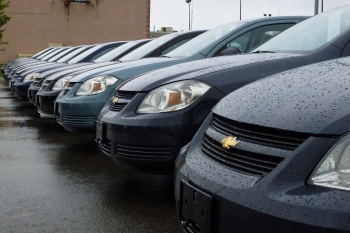 The Vehicle Cost Calculator helps consumers go beyond the sticker price of a vehicle and determine the lifetime cost when they head to the car lot. | Photo by Kino Praxis
When most people go to the car dealership, they take a hard look at the vehicle's window sticker. But that initial price doesn't tell the whole story. By showing only the up-front cost, the sticker price leaves out operating costs such as fuel and maintenance, which can add up over time. To help consumers sort through their options, the Energy Department's Clean Cities initiative just introduced the new Vehicle Cost Calculator and its accompanying widget on the Alternative Fuel and Advanced Vehicles Data Center.
The cost calculator provides consumers an opportunity to take the long view by providing both a vehicle's lifetime cost and cost-per-mile. Users can compare different technologies, including conventional, alternative fuel, and electric drive vehicles. The results aren't just limited to new vehicles; in fact, the database has data on models all the way back to 1996. To personalize their results, users enter their driving habits, local price of fuel, and available tax credits. By seeing beyond the dealership sticker, consumers can choose the vehicles that best meet their needs today and in the future.
The calculator also provides a vehicle's annual energy use and greenhouse gas emissions, helping buyers better understand a vehicle's social and environmental benefits. The energy use encompasses both annual fuel use – such as gasoline, diesel or biofuel – and if applicable, annual electricity use. Using domestic alternative fuels instead of gasoline improves the country's economic and national security. The lifecycle greenhouse gas emissions calculation includes emissions from both the vehicle's tailpipe and fuel production. For example, the lifecycle emissions of an all-electric vehicle vary significantly depending on its electricity source. If a vehicle is charged with electricity derived from burning coal, its lifecycle GHG emissions will be much higher than those of a vehicle charged with electricity from renewable sources like wind. To determine their individualized result, users enter their ZIP code to determine their local electricity mix and emissions. 
If you'd like to host an abridged version of this tool on your own website, the Vehicle Cost Calculator widget is for you. By just cutting-and-pasting a bit of code, you can add basic cost and emissions calculations right on your own page. Linking to the full cost calculator on the AFDC also enables visitors to access more detailed information.