You are here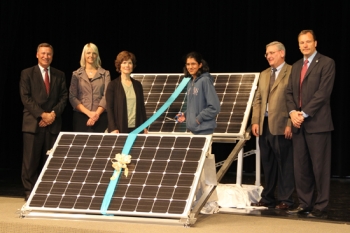 Gil Sperling, U.S. Department of Energy; Elise Brown, Utah State Energy Program; Janet Jameson, Hillside Teacher; Prathusha Boppana, Hillside Student; Martell Menlove, Deputy Supt of Schools; Chuck McGinnis, Johnson Controls at the Solar for Schools ribbon cutting. | Department of Energy Image | Government Work |
Salt Lake City's Hillside Middle School was in the spotlight Monday as the focal point for the new Solar for Schools program in Utah, which is supported by funds from the Recovery Act.
The event marked the installation of solar photovoltaic arrays at 73 schools across Utah, with at least one array in each of the state's 41 school districts. "This Solar for Schools program is helping Utah to lead the way in our nation's transition to clean, renewable energy," said Energy Secretary Steven Chu. "This statewide solar installation is an example of how the Recovery Act investments in clean energy are benefiting America by creating new jobs, supporting our local economies, and educating students on the advantages of clean, renewable energy technologies."
The Department of Energy awarded the Utah State Energy Program a $3 million grant under the Recovery Act. The Utah State Energy Program used the Recovery Act funds to support the Solar for Schools program, a project managed by Johnson Controls. In partnership with the National Energy Foundation, the program will provide training and renewable energy curriculum about solar, wind and geothermal technologies to 200 K-12 teachers across the state of Utah, while reducing energy costs for Utah taxpayers.
Students will have the ability to track live data from the solar installations, compare the data across schools throughout the state and measure the effects of temperature and location on the energy output.