You are here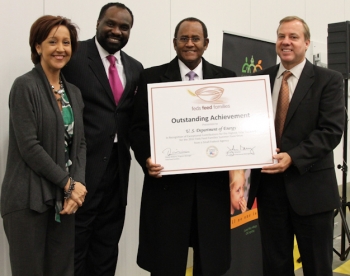 As a result of DOE employee efforts, the Energy Department received an award from OPM for donating the highest amount of non-perishable food items within the "small agency" category of Federal agencies participating in this year's Campaign. | Photo courtesy of OPM.
This year, the Energy Department again partnered with OPM and other Federal agencies to assist local food banks in replenishing their food supplies through the 2012 Feds Feed Families Campaign this summer -- and collectively donated 7,286,845 pounds of food to help those in need across the country. The Energy Department alone donated 211,186 pounds of food to food banks in local communities, an important step in the fight against hunger.
Check out the breakdown below for more specifics on the offices that contributed.
Under Secretary for Nuclear Security: 136,410 pounds
Deputy Secretary Departmental Staff and Support Offices: 33,315 pounds
Under Secretary for Science: 30,413 pounds
Energy Programs:  5,544 pounds
Additionally, there were DOE headquarters events and direct deliveries to the Capital Area Food Bank of 5,504 pounds.  
The top five field organizations donating the most pounds of food during the Campaign are:
NNSA, Savannah River Site (including the NNSA Site Office; Mixed Oxide Fuel Fabrication Facility (MOX); and Defense Nuclear Nonproliferation Offices): 47,247 pounds
The Office of Science (SC) Chicago Office (including the New Brunswick Laboratory, Argonne Site Office, and Ames Site Office): 20,200 pounds
The NNSA Production Office (Y-12 and Pantex Sites): 15,943 pounds
The Office of Environmental Management (EM) Consolidated Business Center: 11,736 pounds
The EM Portsmouth/Paducah Project Office: 10,794 pounds
11 "DOE Heavy Hitters" (individuals who donated 1,000 pounds or more of food) also made donations totaling 13,720 pounds of food -- and 55 individuals donated 250 pounds or more each (or 19,520 pounds of food total). These names are recognized on the OPM Feds Feed Families "Hall of Fame Donors".
For more information on how you can continue to help those in need, the 2012 Combined Federal Campaign just kicked off and needs your help, too.