You are here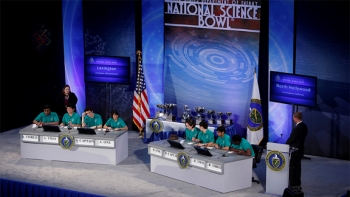 The Final Match at the U.S Department of Energy National Science Bowl in Washington, DC on April 30, 2012. | Photograph by Dennis Brack, U.S. Department of Energy, Office of Science
Imagine an event on the scale of March Madness . . . but multiplied by two.
Then imagine that instead of running up and down the hard court and making almost impossible jump shots, the competitors are instead answering almost impossible science questions, and thereby driving toward a brighter future.
Imagine that.
And then see the reality at the Finals of the Department of Energy's (DOE's) National Science Bowl this weekend.
The Finals are the culmination of a competition that began in January, during which more than 9,000 high school students on some 1,894 teams participated in 69 high school regional competitions which were held in 43 states, the District of Columbia, and Puerto Rico. Another 5,000 middle school students on about 1,023 teams also participated in 46 regional competitions in 33 states, Puerto Rico and the District of Columbia.
Students on those 115 winning teams – from 69 high schools and 46 middle schools – are now preparing to travel to Washington D.C. for a shot at the championship. On Saturday and Sunday (April 27th and 28th), the students will face-off in fast-paced question-and-answer format, being quizzed on everything from astronomy to biology and earth science to math. Middle school students will also vie against one another in an electric car race, even as their high school counterparts contend in a hands-on scientific challenge.
After all that, the top two middle- and high school teams will then contest for the Championship at the National Building Museum on the morning of Monday April 29th. The winning high school team will be off to a nine-day scientific experience in Alaska, and the runner-up will enjoy a five-day adventure in Great Salt Lake Park, Yellowstone National Park and Grand Teton National Park. Top teams will also receive trophies, medals and checks for their respective school science departments.
Trophies are nice, and prizes even better, but the real rewards for Science Bowl competitors are a bit more intangible. The questions are tough, and the preparations are hard: Those who compete – much less reach the Finals – have to possess (or learn) the same dedication, the same willpower and self-sacrifice, as any elite student athlete. That essential education in both knowledge and character is what truly makes the National Science Bowl a competition like no other.
That's also the reason DOE's Office of Science sponsors the competition – to encourage students to excel in science and mathematics, and to pursue careers in those fields. Over the past 23 years, some 200,000 students have participated in the Science Bowl, and many have gone on – and are going on – to become scientists and teachers, engineers and leaders.
So tune into the National Science Bowl Finals this weekend. It's a bit like March Madness … except the rewards last far after the final buzzer.