You are here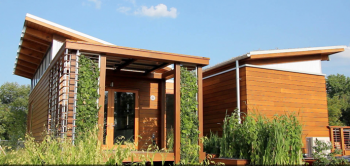 The University of Maryland's "WaterShed" house won first prize in the 2011 Solar Decathlon architecture contest. | Photo courtesy of the University of Maryland team.
Today, Solar Decathlon officials announced the results of their 6th contest -- architecture --  awarding the University of Maryland 96 out of 100 points and bumping its house, "WaterShed," into first place in this 10-day, 10-contest competition.  Check out more photos of the Maryland team's award-winning design on their team's website.
The University of Maryland just barely beat out New Zealand's team, which scored an impressive 95 points, and Appalachian State's team, which came in 3rd place with 94 points.
The architecture contest was judged by a jury of professional architects and the scores are based on the following criteria:
Holistic Design --  Is the house comfortable for occupants and compatible with the surrounding environment?
Lighting - How energy-efficient is the lighting and how well integrated is it with natural light?
Inspiration - Does the home inspire and delight visitors?
Architectural - How well does the home execute the basic elements of design? This includes room scale and proportion, facade features, indoor-outdoor connections, and overall composition.
Documentation - How easily can someone else re-create the home? This should include drawings, a project manual, and an audiovisual architecture presentation.
So far, they've announced the results for affordability,  appliances, hot water, comfort zone,  home entertainment, and architecture. Just four more contests to go before the winner of the entire competition is announced this Saturday at 2:30pm.   
You can keep up with all results on the Solar Decathlon's scoring page and you can visit all 19 energy-efficient solar homes in person on the National Mall's West Potomac Park from 10am-2pm this Wednesday, Thursday or Friday, from 10am to noon on Saturday, and from 10am to 5pm on Sunday.  
And one last Solar Decathlon pro tip, if you were following @energy OR @Solar_Decathlon on Twitter, you'd already know these results!