You are here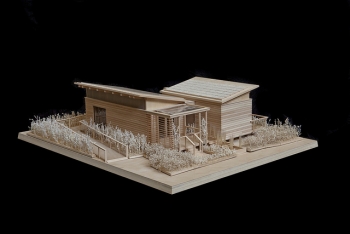 University of Maryland's WaterShed design model | courtesy of the Solar Decathlon's Flickr photostream
In honor of the U.S Department of Energy's Solar Decathlon -- which challenges 20 collegiate teams to design, build, and operate solar-powered houses that are cost-effective, energy-efficient, and attractive -- we are profiling each of the 20 teams participating in the competition.
On a pleasant day at the University of Maryland's College Park campus, a mix of students, faculty and press gathered to witness a Shed raising -- an event marking the start of construction for Team WaterShed's Solar Decathlon entry. For the past year and a half, nearly 300 students from a variety of disciplines have joined in the demanding yet rewarding process of building an energy-efficient home.
While the frame of the home has been constructed, much work remains -- including incorporating solar panels to provide energy for the home, solar thermal tubes to heat water, a liquid desiccant water fall to control humidity, and a home automation system that ensures all of these elements run together smoothly. And in just four short months, everything must be complete. "It's kind of like being in a truck at 90 miles an hour," remarked Allison Wilson, the Team's architect project manager.
Still, the purpose behind the event helps to motivate the team during hectic times. "This is a house I'm extremely proud to be working on," said WaterShed's engineering project manager David Daily. Part of the team's goal is to bring attention to the Chesapeake Bay, which is the largest estuary in the United States and home to more than 3,600 plant, fish, and animal species. According to the EPA, a watershed is the area of land where all of the water that is under it or drains off of it goes into the same place. City, power plant and farm watersheds all drain into and adversely impact the Chesapeake Bay.
The Team's design demonstrates ways in which an energy-efficient home can both provide comfort for its residents and protect its surrounding environment. An example is the home's green roof used to store and filter rainwater. This processed water can be used for irrigation or safely released back in the Chesapeake Bay's watershed.
As the months leading up to the competition will be fast-paced and challenging -- the Shed raising event provided a time for the students, if only briefly, to stop for a moment and celebrate their accomplishments in sustainable design. As Allison said, "It's incredibly gratifying to see something we drew on a piece of tracing paper that was literally a doodle and to watch that become an absolutely gorgeous building. It feels awesome."
The Solar Decathlon will take place September 23 through October 2, 2011 at the National Mall's West Potomac Park in Washington, DC.