You are here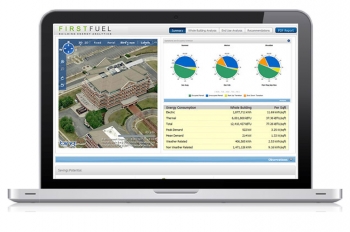 This screenshot from cleantech start-up company FirstFuel's building energy efficiency performance software shows users a building's response to all forms of weather, operational schedules, key energy metrics, daily consumption patterns, seasonal analysis, peak loading, and shell integrity. | Photo courtesy of FirstFuel.
Through the acceleration of high-growth entrepreneurship and adoption of innovative energy efficient technologies, the Energy Department is enabling significant improvements in the energy performance of the nation's new and existing commercial buildings. 
Awarded under the Energy Department's Innovation Ecosystem Development Initiative, a program designed to accelerate innovations from the lab to market, Fraunhofer TechBridge is using the funding to deliver "U-Launch" awards to services that catalyze growth for promising early-stage cleantech companies. Fraunhofer works in collaboration with the New England Clean Energy Foundation, the Association of Cleantech Incubators of New England (ACTION), and the Massachusetts Clean Energy Center.
U-Launch awards connect companies with R&D services, experienced entrepreneurs, and incubator services to help businesses expand and raise funds to develop commercial products and successful ventures.
One of these early-stage companies, FirstFuel Software (formerly iblogix, Inc.), capitalized on its U-Launch awarded research project, conducted by Fraunhofer, to secure $2.4 million in an initial round of venture financing. FirstFuel, based in Waltham, MA, is using this financing to quickly scale its zero-touch analysis platform that assesses the energy performance of commercial buildings.
"As a U-Launch awardee, we were able to show potential investors that our Rapid Building Assessment platform had been technically validated and that the results showed the promise of the technology," said Swapnil Shah, FirstFuel's CEO and founder. "The Innovation Ecosystem-funded services we received through Fraunhofer and U-Launch helped us receive the venture funding that will take our technology to the next stage of commercialization."
FirstFuel's innovative platform uses building consumption data to "see" into buildings and understand how energy is being used, where it is wasted, and what to do about it – all without ever setting foot onsite. 
"The U-Launch award is a great success story proving how impactful policy and federal funding can be to cleantech entrepreneurship," said Jason Matlof, partner at Battery Ventures. "We're very excited to be working with FirstFuel and believe the company has a profound opportunity to help utilities and commercial building owners achieve major savings and meet their energy efficiency goals."
Other early-stage cleantech companies take note: the Utility Technology Challenge is now open and accepting submissions through January 31, 2012. Pilot-ready or early commercial-stage clean energy technologies with utility applications will compete for $100,000 worth of pilot projects. Fraunhofer TechBridge and U-Launch are partners in this competition, which is run by the Clean Technology & Sustainable Industries Association.
To learn more, read about the Innovation Ecosystems and student cleantech projects.