You are here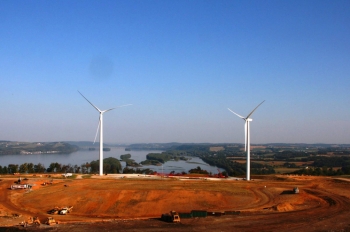 These two General Electric wind turbines, erected in January 2011 on the Frey Farm landfill adjacent to Turkey Hill Dairy's ice cream and sweet iced tea plant in Lancaster County, Penn., are expected to produce 7.5 million kWh of electricity annually. | Photo courtesy of Lancaster County Solid Waste Management Authority.
With its Lady Liberty Mint and Blitzburgh Crunch sold from Vermont to Florida, Turkey Hill Dairy is the fourth largest producer of ice cream in the United States. Now, nearly a quarter of the electricity the company uses each year to produce its 26 million gallons of ice cream comes from wind power.
Turkey Hill Dairy, sister company to the ubiquitous central Pennsylvania convenience store Turkey Hill, has partnered with PPL Renewable Energy and the Lancaster County Solid Waste Management Authority to install two General Electric wind turbines at the Frey Farm landfill neighboring its Lancaster ice cream and sweet tea plant.
The turbines stand 262 feet high with blades 135 feet long. The height, and site, was selected in part because wind speed in the area averages 4.5 to 5 miles per hour according to renewable energy consulting company AWS Truepower. Generally, wind speeds are higher at heights greater than 240 feet -- the height at which annual averages were estimated.
This 3.2-megawatt wind power project, partially funded with $1.5 million from the Recovery Act through the Energy Department's State Energy Program (SEP), officially began producing power in January 2011. One month later, the turbines had generated nearly 770,000 kilowatt hours of electricity -- accounting for 32 percent of the Dairy's electricity needs for the month.
During times of low demand from the factory, any excess power created by the turbines is delivered to the local grid. The 7.5 million kWh of electricity estimated to be generated each year are sold directly to the Turkey Hill Dairy through a partnership with PPL Renewable Energy.
These efforts will reduce the dairy's annual greenhouse gas emissions by roughly 5,900 tons. From an annual perspective, this is equivalent to removing 1,000 cars from the road, decreasing demand for foreign oil by 12,000 barrels or reducing our nation's gasoline consumption by 600,000 gallons.
This wind farm in central Pennsylvania is an example of how companies can tap into renewable energy as a viable alternative to fossil-fueled power generation. Such deployments of clean technology work toward the goals outlined in the 20% Wind Energy by 2030 report published in 2008 by the Energy Department's National Renewable Energy Laboratory. Under the scenario that wind power could supply 20 percent of the electricity in the United States in the next two decades, Pennsylvania would be a major contributor to generating power for the region with average annual wind speeds ranging from 4 to 6 miles per hour.